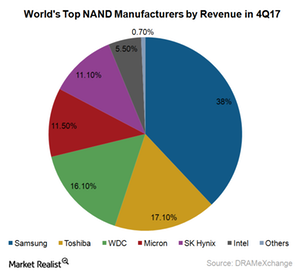 Rumors: Could Intel and China Collaborate in the Memory Market?
By Puja Tayal

Mar. 20 2018, Updated 10:30 a.m. ET
Rumors: Intel-China collaboration on memory
Intel (INTC) is growing aggressively in the memory market, as memory is a key component in the 5G-connected world. The company's vision is to develop a comprehensive solution for the connected world, implementing manufacturing memory chips into almost all types of devices, from PCs (personal computers) to data centers to smartphones.
For the first time, Intel has opened its memory business to third-party customers and is now looking for more long-term supply contracts. This fueled several rumors. DRAMeXchange and Nikkei Asian Review, citing industry sources, reported that Intel is in talks with China-based (MCHI) Tsinghua Unigroup subsidiary UNIC Memory Technology over a possible collaboration to develop and produce 3D NAND technologies.
Article continues below advertisement
DRAMeXchange analyst Avril Wu, citing industry sources, stated that the talks are revolving around Intel supplying 3D NAND wafers from its Dalian facility to UNIC, which would develop, test, and package these wafers into various products such as microSD (secure digital) cards and SSDs (solid-state drives), which are used in smartphones, tablets, notebooks, desktops, and servers.
The rumor also suggests that Intel might later extend the collaboration with UNIC to 64-layer 3D NAND chips. However, there is ambiguity on whether the talks also include the transfer of technology to UNIC. If there is any transfer of technology, it could invite regulatory scrutiny for Intel.
Nikkei Asian Review stated that UNIC's senior executive confirmed the rumor that it would launch its storage solutions on Intel's wafers. However, Intel declined to comment. If this rumor turns out to be true, UNIC Memory Technology could boost its revenue and close the technology gap with competitors. This collaboration would also allow Intel to penetrate China's large market.
How would a supply arrangement with China benefit Intel?
Avril Wu stated that Intel could significantly boost its presence in the nation's NAND market by partnering with Tsinghua Unigroup, which has a strong presence in China and good connections with Chinese authorities.
At present, Intel is the sixth-largest NAND supplier, with a 5.5% market share. Collaborating with Tsinghua would help the chip giant increase its presence in smartphones and tablets, which have higher unit volumes than PCs (personal computers) and are the largest market for NAND. This stronger presence would expand Intel's total addressable market for memory solutions and increase its NAND market share. Intel's dependence on Apple could also decrease, allowing it to expand to Android phones manufactured by Chinese companies such as Oppo and Huawei. Moreover, Intel could supply other components to Tsinghua Unigroup and its customers.
If the rumor turns out to be true, Tsinghua Unigroup would be Intel's first major memory product customer and could help recover its $5.5 billion capital spending on the Dalian memory plant. Next, we'll see how a possible collaboration with Intel could benefit Tsinghua Unigroup.