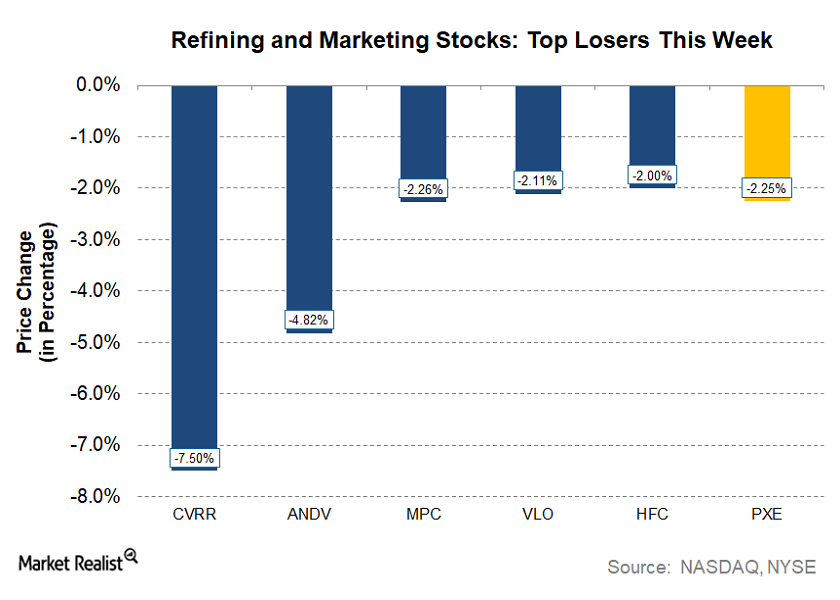 Refining and Marketing Losses this Week: CVRR, ANDV, MPC, VLO, HFC
By Nicholas Chapman

Mar. 16 2018, Published 2:19 p.m. ET
Refining and marketing losses
Next in our series of the biggest movers in the energy sector, we'll now look at the highest-losing stocks this week from the US refining and marketing sector. To compile the list of the top refining and marketing movers, we've selected refining and marketing companies with market capitalizations greater than $100 million and weekly average volume greater than 100,000 shares.
Article continues below advertisement
CVR Refining: Refining and marketing losses
CVR Refining (CVRR) lost the most this week among the refining and marketing sector. It fell from last week's close of $14.00 to $12.95 on March 15, a fall of ~7.5%. While there's no specific news on the stock this week, CVR Refining fell strongly on three out of four days so far this week.
CVR Refining has been in a continuous decline after a 52-week high of $17.58 on January 16. This decline also caused CVRR to fall below its 50-day moving average in February 2018. As of March 15, CVR Refining is trading at $12.95, whereas its 50-day and 200-day moving averages stand at $14.70 and $10.75, respectively.
CVR Refining reported its 4Q17 earnings on February 22. In 4Q17, CVR Refining reported revenues of ~$1.5 billion—better than the Wall Street analyst consensus of ~$1.2 billion. CVRR beat EPS estimates by $0.04 in 4Q17.
The other refining and marketing struggles this week are Andeavor (ANDV), Marathon Petroleum (MPC), Valero Energy (VLO), and HollyFrontier (HFC). ANDV, MPC, VLO, and HFC fell ~4.8%, ~2.3%, ~2.1%, and ~2.0% this week.
VLO and HFC are outperforming the PowerShares Dynamic Energy Exploration & Production Portfolio (PXE), which is down ~2.3% this week. PXE's top holdings include refining names like Valero Energy (VLO), Phillips 66 (PSX), and Marathon Petroleum (MPC).