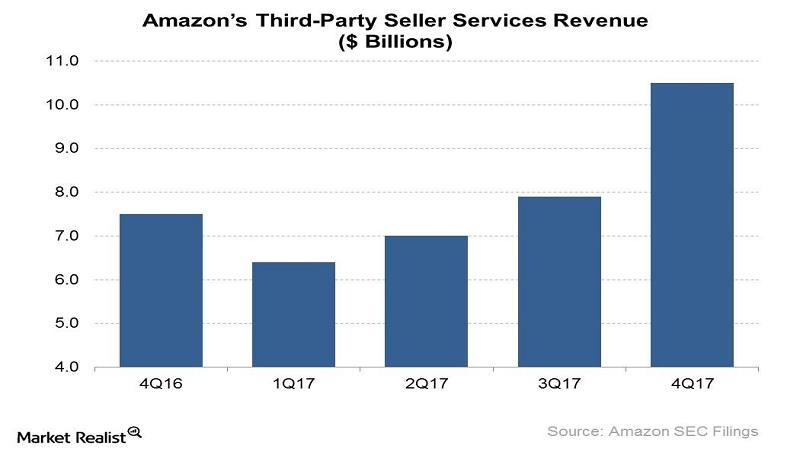 Putting Amazon's Wristband Tracker Patent in Perspective
By Ruchi Gupta

Mar. 8 2018, Updated 9:02 a.m. ET
Speeding up order preparation
Amazon (AMZN) was recently granted a pair of patents for a wristband tracker system, GeekWire reported. Amazon's smart wristbands would track the hand movements of the wearer. It could be used by warehouse associates to ensure that they have their hands in the right place, potentially speeding up processes such as packaging items for delivery.
Although critics feared that wristband tracker systems could invade the privacy of workers, the company views it differently.
"This idea, if implemented in the future, would improve the process for our fulfillment associates. By moving equipment to associates' wrists, we could free up their hands from scanners and their eyes from computer screens," Amazon said in a statement cited by GeekWire.
Article continues below advertisement
Delivery speed redefining retail competition
According to Amazon, employees at many companies around the world use handheld devices to check inventory as part of the process of fulfilling orders. Therefore, Amazon doesn't view its idea of wristband tracker system as unusual, but it believes it could simplify work for people involved in warehouse work such as packaging orders.
Retailers from Amazon to eBay (EBAY), Walmart (WMT), and Alibaba (BABA) are increasingly emphasizing on faster delivery to boost sales and customer retention. 
Walmart, for instance, has explored bringing its employees into its delivery system where store associates could drop off customer orders as they head home from work. Alibaba and rival JD.com (JD) are bringing drones to help speed up deliveries.
Shipping service revenue jumped 41%
Amazon is also investing in a more robust delivery system that could not only speed up the fulfillment of its own orders but also bring it new revenues. Businesses that sell on Amazon's marketplace pay the company to deliver orders to customers on their behalf. 
In 4Q17, Amazon's operation that provides third-party seller services such as order fulfillment brought in $10.5 billion in revenues, up 41.0% year-over-year.