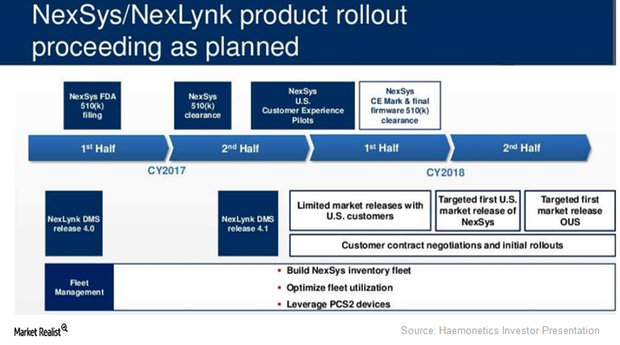 Plasma Continues to Drive Strong Growth for HAE in Fiscal 2018
By Margaret Patrick

Mar. 20 2018, Updated 9:03 a.m. ET
Plasma franchise's revenue performance
In fiscal 3Q18, Haemonetics (HAE) reported revenue of close to $113.1 million, a YoY (year-over-year) rise of ~4.1%. Excluding the impact of its SEBRA divestiture and the revenue associated with foreign exchange fluctuations, the company witnessed 5% organic revenue growth in its plasma franchise in fiscal 3Q18.
Haemonetics has earned revenue of nearly $324.4 million from the sale of its products in the plasma franchise YTD (year-to-date) in fiscal 2018, which reflects a YoY rise of ~4.7%. The franchise has reported organic revenue growth of close to 6% YTD in fiscal 2018, and it's expected to continue witnessing robust growth owing to solid demand for drugs based on human plasma.
Article continues below advertisement
NexSys/NexLynk product launch
The above diagram shows the timeline for the launch of Haemonetics's innovative platform for plasma collection and processing, NexSys PCS, as well as its embedded donor management software, NexLynk.
Haemonetics expects the new platform to improve throughput and productivity, increase the yield (or plasma collected) per donor, improve compliance rates, and reduce the probability of mistakes at its plasma collection centers, thereby improving the donor experience. These factors are expected to reduce the cost per liter of plasma collected for the company's customers.
The NexSys/NexLynk system is expected to prove effective in collecting targeted plasma components and improving the quantity of protein collected per plasma donation. Additionally, it's expected to be more effective in maintaining the overall purity of the collected plasma. The new platform is expected to improve center performance through integrated connectivity, simplified and guided operations, and the effective deployment of business optimization services.
NexSys/NexLynk system is expected to strengthen the compliance system in plasma collection, thereby reducing the probability of errors and preventing situations such as the overdrawing or underdrawing of plasma from donors. The system is also expected to prove effective in improving staff response times at centers and subsequently reducing donor wait times as well as donor inconvenience.
The NexSys/NexLynk system is expected to enable Haemonetics to compete effectively with other medical technology players such as Stryker (SYK), Medtronic (MDT), and Abbott Laboratories (ABT) for investor dollars.
In the next article, we'll discuss the future growth prospects for Haemonetics's plasma franchise in greater detail.