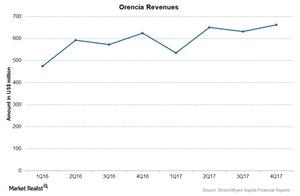 Orencia's and Other Brands' Performance in 4Q17
By Mike Benson

Mar. 30 2018, Updated 7:31 a.m. ET
Orencia, Bristol-Myers Squibb's immunoscience drug
Orencia, the only drug in Bristol-Myers Squibb's (BMY) immunoscience portfolio, is a fusion protein approved for the treatment of moderate-to-severe rheumatoid arthritis and related issues. It reduces further damage to bones and joints.
Article continues below advertisement
Orencia revenues
The above chart shows Orencia sales since 1Q16. Orencia may be used in combination with therapies other than TNF (tumor necrosis factor) antagonists. Between 4Q16 and 4Q17, Orencia revenue grew 6% to $662 million from $625 million. US sales rose ~9% to $461 million from $423 million.
Between fiscal 2016 and fiscal 2017, Orencia revenue grew ~9% to ~$2.5 billion from ~$2.3 billion. US sales rose ~11% to ~$1.7 billion from ~$1.5 billion. Revenue growth was driven by strong sales in both US and international markets. Other drugs used to treat rheumatoid arthritis include Pfizer's (PFE) and Amgen's (AMGN) Enbrel, Johnson & Johnson's (JNJ) Simponi, and AbbVie's (ABBV) Humira.
Other brands portfolio
Bristol-Myers Squibb's established brand portfolio includes virology and other drugs. Between 4Q16 and 4Q17, revenue from other drugs grew 2% to $595 million from $581 million, and between fiscal 2016 and fiscal 2017, it fell 7% to ~$2.1 billion from ~$2.3 million.