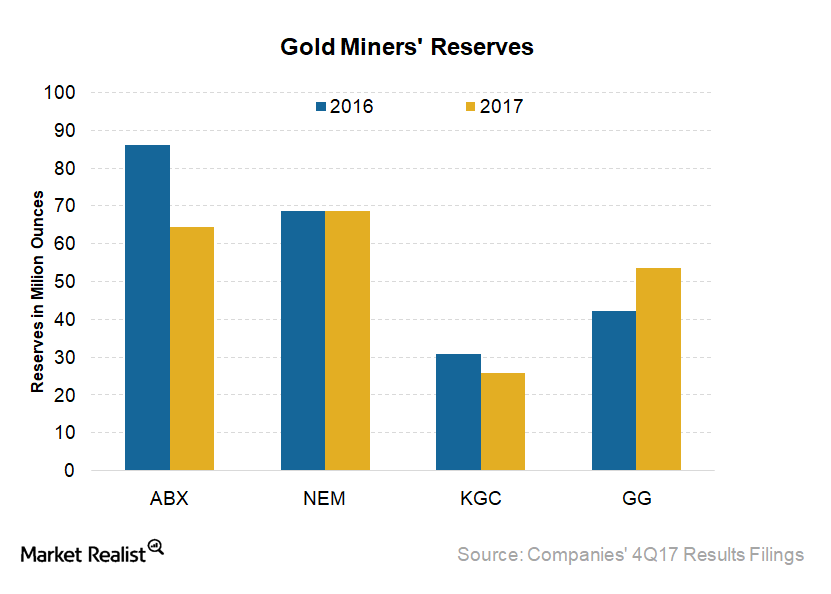 Only Goldcorp Increased Its Reserve in 2017: Can Others Catch Up?
By Anuradha Garg

Mar. 14 2018, Updated 9:02 a.m. ET
Reserve replacement
Gold miners (GDX) (GDXJ) have to compensate for every ounce they take out of the ground. While mines have finite lives, the companies operating them don't, so it's important to look at miners' reserves and resource estimates and the assumptions used to calculate them.
Goldcorp's (GG) proven and probable gold reserves as of June 30, 2017, were 53.5 million ounces, an improvement of 26.5% YoY (year-over-year). The significant growth was due to the successful conversion of 4.7 million ounces to mineral reserves at the Century mine and Goldcorp's acquisition of 8.4 million ounces of gold mineral reserves.
The reserve estimates are based on a gold price assumption of $1,200 per ounce. The company is aiming for reserves of 60 million ounces by 2021. For more details, read Goldcorp's Targeted Reserves Growth: What Will It Take?
Article continues below advertisement
Reserve declines
Barrick Gold (ABX) reported mineral reserves of 64.5 million ounces at the end of 2017, a decline of 25% YoY. The factors contributing to this considerable decline in reserves were as follows:
the divestment of ~9.2 million ounces associated with Veladero and Cerro Casale
the reclassification of ~14.0 million ounces of Pascua-Lama reserves to resources
The company kept its gold price assumption of $1,200 per ounce unchanged to calculate the reserves.
Kinross Gold (KGC) has continued to use a gold price assumption of $1,200 per ounce for reserves. Kinross's reserves were 16% lower at 25.9 million ounces at the end of 2017 compared to 2016. The decline in reserves was mainly the result of KGC's sale of Cerro Casale, which accounted for 5.8 million ounces of estimated reserves. Kinross's exploration efforts continued in the vicinity of its existing mines. In 2017, KGC added 368,000 ounces to its reserves, and it added 3.6 million ounces to its resource estimates due to its exploration activities.
NEM replaces reserves for the first time in five years
Newmont Mining (NEM) reported flat reserves at the end of 2017 compared to 2016. Its reserves came in at 68.5 million ounces in 2017, unchanged from 2016 due to additions and revisions fully replacing the depletion. This was the first time since 2012 that the company was able to replace its reserve depletion. Its gold price assumption for calculating its reserves was $1,200 per ounce, unchanged from the previous year.
The reserves for all companies except Goldcorp fell YoY in 2017. Exploration activity hasn't been able to cover the depletions during the year, and this is a concerning trend for the long term. However, many industry participants believe that falling reserve replacements could support higher gold prices in the long term.
In the next part of this series, we'll look at the per-unit cost progressions of these miners.