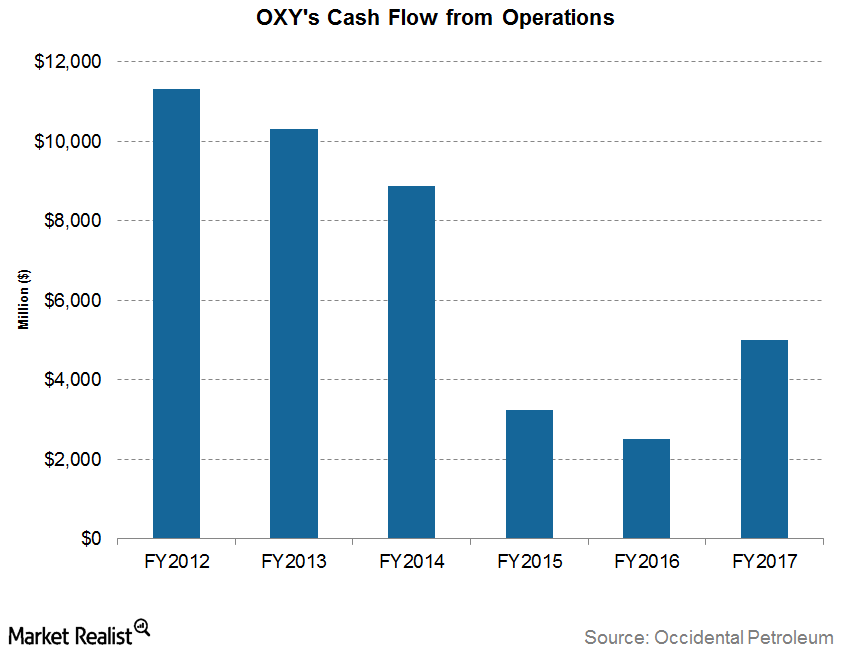 Occidental Petroleum's Key Cash Flow Trends in Fiscal 2017
By Keisha Bandz

Mar. 30 2018, Published 10:11 a.m. ET
Occidental's 2017 operating cash flow
Occidental Petroleum's (OXY) operating cash flow in 2017 was ~$5 billion compared to $2.5 billion in 2016.
Article continues below advertisement
OXY's net income and revenue in 2017
Occidental's 2017 net income was $1.3 billion compared to its net loss of ~$574 million in 2016. The improvement was driven by higher revenue (operating costs were mostly flat in 2017 versus 2016). OXY reported 2017 revenue of $13.3 billion compared to $10.4 billion in 2016. It saw higher revenues across all its segments. Occidental's 2017 revenue was higher than its 2016 level due to higher realized energy prices, which were partially offset by lower production volumes in 2017 compared to 2016. Read Why Occidental Petroleum's Production Fell in 2017 to know more.
Trends in OXY's net income and revenue
OXY's cash flow from operations has improved over the last two years, but it's still significantly lower than the levels the company saw before 2015 preceding the oil price crash. OXY's revenue fell 35% in 2015 compared to 2014, 38% compared to 2013, and ~83% compared to 2012. In its 2015 annual 10-K filing, the company noted that the main reason for the fall in its revenue in 2015 was lower energy prices. However, as we noted above, its revenue has improved, along with energy prices, since 2015.
OXY's net income in 2015 fell as a result of falling revenue and rising operating expenses, with its net income coming in at -$7.8 billion compared to its net profits of $616 million in 2014, $5.9 billion in 2013, and $4.6 billion in 2012. Like its revenue, OXY's net income has also shown significant improvement since 2015.