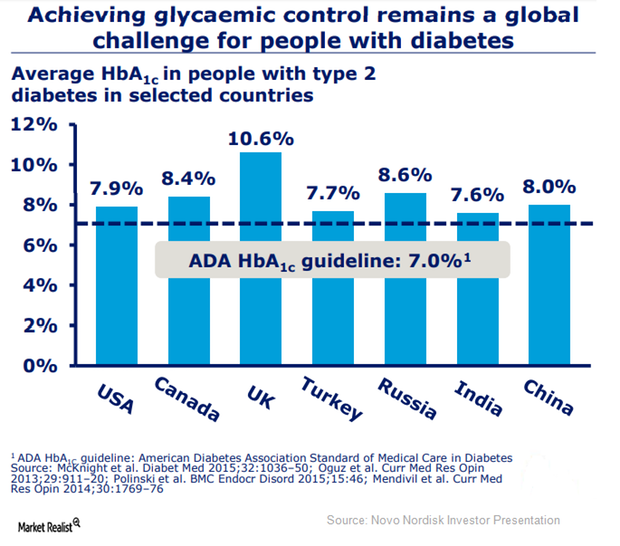 Will NVO Continue to Lead the Global Insulin Market in 2018?
By Margaret Patrick

Mar. 7 2018, Updated 7:32 a.m. ET
Global insulin market trends
Novo Nordisk (NVO) has adopted a market-fit strategy, offering insulin products that are suitable for the different demands of patients in different geographies. The company considers affordability to be the key commercial aspect of its human insulin portfolio, which mainly caters to diabetes patients with lower purchasing power.
Novo Nordisk believes that high familiarity owing to long-term presence in the market is a major competitive advantage for its modern insulin portfolio. Since physicians have been using these products in clinical settings for a long time, they're confident of their efficacy and safety profiles.
The above diagram shows that poor glycemic control continues to be a worldwide challenge despite the presence of multiple diabetes treatment options from big pharmaceutical companies such as Novo Nordisk, GlaxoSmithKline (GSK), Eli Lilly (LLY), and Merck & Co. (MRK).
Novo Nordisk aims to further improve glycemic control in diabetes patients with its new-generation insulin portfolio. The company aims to establish Tresiba as a standard therapy for physicians initiating patients on basal insulin.
Further, Novo Nordisk aims to position Ryzodeg as a preferred basal and bolus combination regimen. The company is also working to position Xultophy as the best basal and glucagon-like peptide 1 (or GLP-1) combination regimen and Fiasp as the preferred mealtime insulin therapy.
Article continues below advertisement
Challenges in optimal insulin treatment
According to a global Internet survey of patient and physician beliefs regarding insulin therapy (or GAAP) sourced from the Canadian Journal of Diabetes, ~74% of type 1 diabetes patients and 43% of type 2 diabetes patients from a total patient sample of 335 patients decreased their insulin dosages after nonsevere hypoglycemic episodes. On the other hand, 79% of type 1 diabetes patients and 58% of type 2 diabetes patients reduced their insulin dosages after severe hypoglycemic episodes. These results mean that the fear of hypoglycemia results in less-than-optimal insulin therapy, which in turn leads to poor glycemic control and long-term complications associated with diabetes, such as cardiovascular diseases, diabetic retinopathy, and diabetic nephropathy.
Novo Nordisk aims to counter this patient compliance challenge through its innovative new-generation insulin products.
In the next article, we'll discuss the growth prospects for NVO's new-generation insulin, Tresiba, in greater detail.