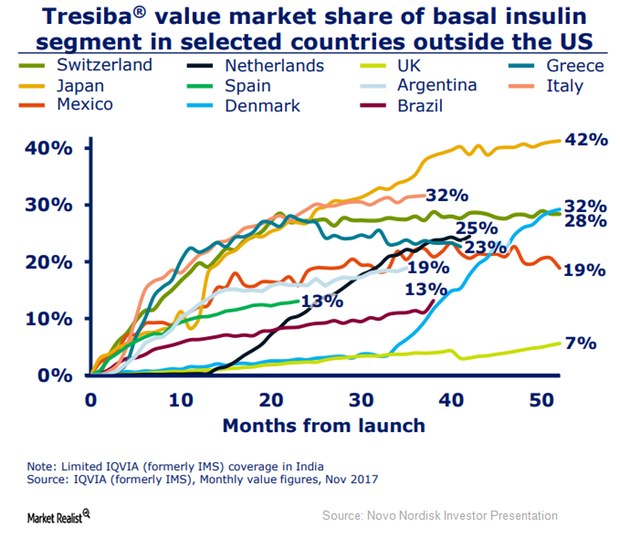 Novo Nordisk Focuses on Creating Buzz about Tresiba's Benefits
By Margaret Patrick

Mar. 7 2018, Updated 10:31 a.m. ET
Tresiba's 2018 milestones
Novo Nordisk (NVO) is anticipating the FDA's decision related to the inclusion of hypoglycemia data from its DEVOTE and SWITCH studies by the end of 1Q18. In 4Q17, the company also submitted a supplemental application to the Japanese Ministry of Health, Labour and Welfare for updating Tresiba's label to reflect hypoglycemia data from the DEVOTE trial.
Novo Nordisk is anticipating a readout of the results from its trial comparing Tresiba to insulin glargine U300 in 4Q18.
Article continues below advertisement
The above diagram shows Tresiba's rapid growth trajectory, especially in markets where its access is similar to those of its competitors. The curve for Tresiba was flat in the initial months after its launch in countries such as Denmark and Netherlands owing to a lack of access. Since the company negotiated reimbursement in these markets, however, there has been a robust rise in Tresibia's uptake. Tresiba is thus in a position to enable Novo Nordisk to compete effectively with other diabetes players such as GlaxoSmithKline (GSK), Merck & Co. (MRK), and Eli Lilly (LLY).
Hypoglycemia and Tresiba
According to the American Diabetes Association, the total amount of direct and indirect costs attributable to each episode of hypoglycemia is close to $14,500. While the direct costs are related to spending on ambulance services, physician visits, emergency care, hospitalizations, and an increased frequency of self-monitored plasma glucose (or SMPG) tests, the indirect costs are related to absenteeism from work, work disabilities, reduced productivity, and increased probability of accidents.
Compared to Insulatard and insulin glargine U100, which have half-lives of 5–10 hours and 12–19 hours, respectively, Tresiba has a much longer half-life of 25 hours. Unlike Insulatard, which can result in high glycemic variability, and insulin glargine U100, which can result in medium glycemic variability, Tresiba results in much lower glycemic variability in diabetes patients.
In the next article, we'll discuss Novo Nordisk's growth strategy for its new-generation insulins in greater detail.