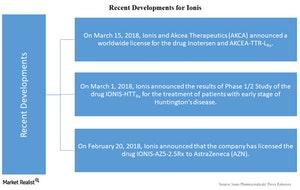 Must-Know Developments for Ionis Pharmaceuticals in 2018
By Mike Benson

Mar. 27 2018, Updated 9:30 a.m. ET
Ionis's recent developments
As discussed earlier, Ionis Pharmaceuticals (IONS) is focused on the development of drugs for the treatment of diseases with limited or no therapeutic options.
Article continues below advertisement
Recent developments
Some of the companies' key recent developments are as follows:
On March 15, 2018, Ionis and Akcea Therapeutics (AKCA) announced a worldwide license for the drug Inotersen and AKCEA-TTR-LRx (formerly referred to as IONIS-TTR-LRx). The transaction size is approximately $1.7 billion plus profit sharing.
On March 1, 2018, Ionis announced the results of its phase 1/2 study of the drug IONIS-HTTRx for the treatment of patients with early-stage Huntington's disease. The top-line data show a significant reduction of disease-causing proteins in patients with Huntington's disease.
On February 20, 2018, Ionis announced that the company has licensed the drug IONIS-AZ5-2.5Rx to AstraZeneca (AZN). The drug IONIS-AZ5-2.5Rx is an antisense drug designed to treat a genetic form of kidney disease, and AstraZeneca holds the development and commercialization rights for this drug. Ionis will receive an upfront payment of $30 million and may receive ~$300 million for additional developments, regulatory milestone payments, and royalties.
On February 14, 2018, Ionis and Biogen (BIIB) announced the results from the CHERISH Study, a phase three study that evaluated Spinraza for the treatment of later-onset spinal muscular atrophy. The end-of-study results were published in The New England Journal of Medicine.
On February 7, 2018, Akcea announced the completion of enrollments for the Phase 2b clinical study of the drug AKCEA-APO(a)-LRx.
The Vanguard Healthcare ETF (VHT) holds 0.2% of its total investments in Ionis Pharmaceuticals (IONS), 3.6% in Amgen (AMGN), and 1.6% in Biogen (BIIB).