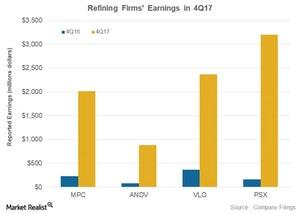 MPC, TSO, VLO, PSX: Ranking Their Refining Yields in 4Q17
By Maitali Ramkumar

Updated
Impact of refining yields on a refiner's profitability
The refining yield shows the quantity and quality of various refined products produced. Lighter refined products garner higher realizations than the heavier products. So, higher production of lighter products can bring higher revenues for refiners.
If heavier sour crude oil is processed, it would result in lower input costs. So, improved prices of refined products coupled with lower crude oil costs could result in improved operating margins for refiners.
Article continues below advertisement
Refining yields: A comparison
In 4Q17, Andeavor's (ANDV) gasoline production stood at 53.0% of its total refined products produced. This is the highest level among its peers Marathon Petroleum (MPC), Phillips 66 (PSX), and Valero Energy (VLO). ANDV's distillate production stood at 37.0%, leaving the other production figures at ~9.0%, the lowest compared to MPC, VLO, and PSX.
However, PSX has the lowest gasoline production level in our review. Gasoline constitutes 45.0% of the total refined products produced by PSX in 4Q17. PSX's distillate production stood at 39.0% in 4Q17.
Comparatively, MPC's refining operations yielded 48.0% gasoline and 33.0% distillates in 4Q17. Valero (VLO) produced 48.0% gasoline and 37.0% distillates.
Total production trends in 4Q17
MPC, ANDV, VLO, and PSX all saw increased total production in 4Q17 over 4Q16. The highest increase was observed by Andeavor, which was followed by MPC, VLO, and PSX. Andeavor's total refined products production grew 36.0% YoY to 1.1 MMbpd (million barrels per day). Comparatively, MPC's production rose 13.0% YoY to ~2.1 MMbpd.
PSX and VLO's total production rose by less than 10.0% YoY. VLO and PSX's production rose 4.0% and 6.0%, respectively, over 4Q16 to ~3.0 MMbpd and ~2.3 MMbpd, in 4Q17. In terms of absolute production levels, VLO stood the highest in 4Q17.
To learn about refiners' stock performance after their 4Q17 earnings, please refer to MPC, VLO, ANDV, PSX: How Refining Stocks Are Trending in 1Q18.