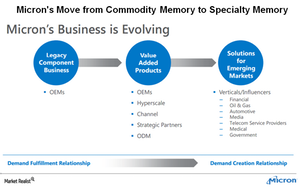 Micron's New Management: What Are The Plans?
By Puja Tayal

Mar. 19 2018, Updated 2:50 p.m. ET
Memory market environment
Micron Technology (MU) is enjoying a strong market environment, especially in the DRAM (dynamic random access memory) market, which is driving its stock and earnings. The company has been guiding that an oversupply situation will continue in the DRAM market in 2018, with the DRAM industry supply expected to grow 20% and demand expected to grow more than 20%. The 20% supply includes new capacity being introduced by competitors Samsung (SSNLF) and SK Hynix.
However, in the NAND (negative AND) market, Micron expects the demand-supply situation to stabilize in 2018 as new capacity from competitors meets the pent-up demand for the last 18 months.
Article continues below advertisement
At the 2018 Goldman Sachs Technology & Internet Conference, Micron's CEO Sanjay Mehrotra reiterated that the company's fundamentals are not the same as they were in the last downturn. The company has significantly improved its technology position, its SSD (solid state drive) sales, and its cloud DRAM sales. Hence, he says, the company will not be significantly affected in the next downturn.
In fact, Micron's new management aims to reduce the influence of industry cyclicality on the company's earnings by transitioning it from a technology and components company to a products and solutions company.
Goals of Micron's new management 
Micron's new management has strategic and operational goals. Its strategic goal is to convert Micron into a products and solutions company by achieving its operational goals of improving its product portfolio and reducing the cost gap between it and rivals Samsung and SK Hynix.
Let's see how Micron plans to achieve those goals. At the Morgan Stanley Technology, Media & Telecom Conference, Micron's chief business officer, Sumit Sadana, explained that management aims to invest in areas that not only increase customer value but also increase shareholder value.
Micron is looking to improve its profits by investing in advanced technology nodes that would reduce its cost per bit.
Micron is looking to leverage its technology leadership to offer unique solutions. Sadana explained that Micron is the only company that has DRAM, 3D (three-dimensional) NAND (negative AND), and 3D XPoint. Its broad portfolio puts it in a unique position to become a products and solutions company. He stated that the company will work with its customers to understand their workloads, applications, and uses cases and put its entire portfolio at work to deliver memory solutions according to their requirements.
Micron is looking to improve its portfolio management by analyzing the volatility of various end-market segments, customers, and product segments and focus its investments only on those products that deliver high returns, thereby improving their profitability.
We could see the implementation of these strategies in 2018. In the meantime, we'll see what the upcoming fiscal 2Q18 earnings might bring for investors.