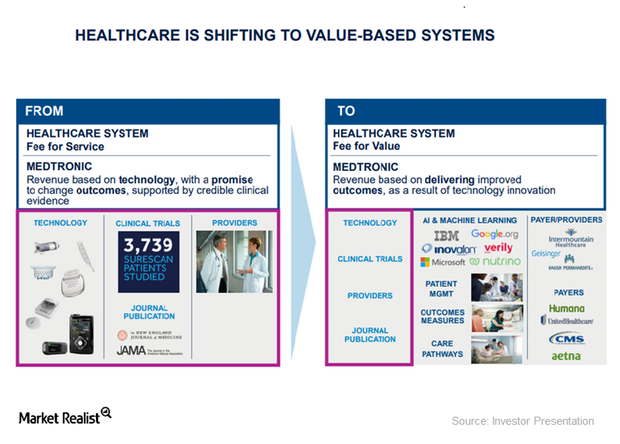 Medtronic's New Partnership to Deliver Value-Based Healthcare
By Sarah Collins

Mar. 12 2018, Updated 9:02 a.m. ET
Medtronic announced a partnership with LVHN
On February 28, 2018, Medtronic (MDT) announced that it has entered into a partnership with LVHN (Lehigh Valley Health Network), an eight-hospital network. LVHN has a presence in seven counties in Northeastern Pennsylvania. The five-year strategic partnership is for the development of innovative, integrated, and sustainable healthcare programs for LVHN that can deliver value-based solutions. The programs will be developed for more than 70 major health conditions with an aim to provide treatment to about 500,000 patients in Northeastern Pennsylvania and deliver a healthcare cost reduction of ~$100 million.
Article continues below advertisement
Partnership details and benefits
Medtronic has the required operational efficiency and technological insight, whereas LVHN has the necessary clinical expertise to help create a successful strategic partnership.
The programs that will be developed during the initial phases will focus on cardiovascular disease, stroke, and lung cancer. These conditions are the priority disease areas for LVHN since the cost of care for these diseases are higher, which impacts the patient's ability to undergo treatment. Ten to 15 conditions are focused in these areas for initial program development and will focus on the value-creation initiatives, including therapy optimization, chronic care management, and episodic care bundles.
Management speaks
According to Omar Ishrak, chairman and CEO of Medtronic, "This agreement is exciting not only for Medtronic and LVHN, but also for the healthcare industry, by serving as a template for how we can work together to achieve our mutual goals of better clinical and economic outcomes. By working in partnership, trusting each other, and combining our expertise, we will create new models of care that are more connected and coordinated. Ultimately, these value-based programs will contribute to a more sustainable health system and a healthier community."