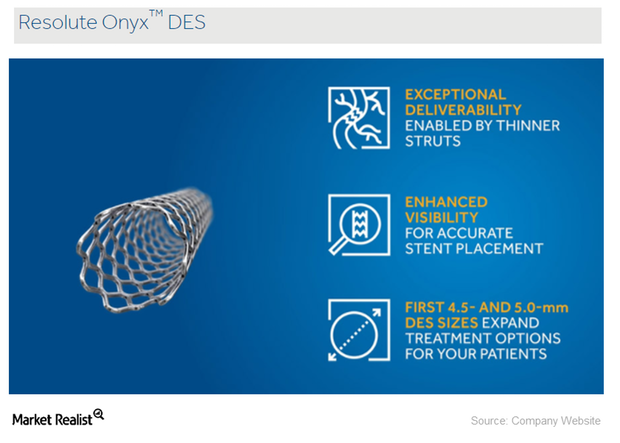 Medtronic Launches Its Resolute Onyx 2.0 mm DES
By Sarah Collins

Mar. 12 2018, Updated 7:33 a.m. ET
Resolute Onyx 2.0 mm DES launch announcement
On February 26, 2018, Medtronic (MDT) announced that the FDA has approved the launch of its Resolute Onyx 2.0 mm (millimeter) DES (drug-eluting stent) in the United States. It is the smallest DES available in the market. Medtronic launched its Resolute Onyx 4.5 mm and 5 mm in May 2017.
Boston Scientific's (BSX) Synergy stent is the market leader in the DES category. The company also offers Eluvia DES stents. Abbott Laboratories (ABT) offers Xience DES stents.
Article continues below advertisement
Features and benefits
The Resolute Onyx 2.0 mm DES is intended to provide treatment for people suffering from CAD (coronary artery diseases) who need to undergo a PCI (percutaneous coronary intervention) procedure but the larger stent technologies can't be used due to smaller vessels in the person's body. According to estimates, 65% of these smaller vessel cases are found to have lesions in critical heart locations.
According to Dave Moeller, vice president and general manager of Medtronic's Coronary and Renal Denervation business, Cardiac and Vascular Group, "Furthering our core objective of developing technologies that address unmet patient needs, the introduction of the Resolute Onyx 2.0 mm DES allows physicians to expand treatment options for patients with smaller vessels. The Resolute Onyx DES is an incredibly deliverable product that incorporates various design enhancements enabling physicians to optimize treatment for a wide range of patients."
Study details
Approval of the Resolute Onyx 2.0 mm was based on a clinical study, the results of which were presented at the EuroPCR 2017 annual meeting. The study results showed that the device met its predetermined performance goals. The results showed low target lesion failure, which came in at 5%, and low target lesion revascularization, which came in at 2%. The results of the clinical study showed no episodes of stent thrombosis and no incidences of cardiac death at 12 months.
Medtronic's Resolute Onyx DES is available in the United States as well as in Europe in all sizes.