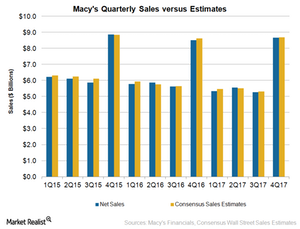 Macy's Delivers Sales Growth in Q4 after 11 Quarters of Decline
Sales growth in fiscal 4Q17
Macy's (M) finally delivered higher sales in fiscal 4Q17—which ended on February 3, 2018—after reporting a decline in sales for 11 straight quarters. The company's sales grew 1.8% on a year-over-year basis in fiscal 4Q17 to $8.7 billion. However, the company's fiscal 4Q17 sales marginally missed analysts' sales estimates by 0.2%.
Article continues below advertisement
What worked in fiscal 4Q17?
Macy's (M) same-store sales grew 1.3% on an owned basis and 1.4% on an owned-plus-licensed basis in fiscal 4Q17. Many retailers like Macy's recorded improved sales in the 2017 holiday season, which is part of fiscal 4Q17. The company's online sales grew by double digits for the 34th consecutive quarter in fiscal 4Q17.
In terms of merchandise categories, fragrances, dresses, fine jewelry, men's tailored clothing, coats, children's category, shoes, and home textiles performed well. The retailer also experienced improved trends in beauty, handbags, and housewares categories. However, the juniors category was weaker than anticipated.
For fiscal 2017, Macy's sales declined 3.7% to $24.8 billion. The company's same-store sales fell 2.2% on an owned basis in fiscal 2017.
Fiscal 2018 outlook
For fiscal 2018, Macy's (M) expects its same-store sales on an owned basis to be flat to up 1.0%. The company's overall sales are expected to decline 0.5%–2.0% in fiscal 2018. Macy's is undertaking several initiatives to enhance its top line. Under its North Star Strategy, Macy's is focusing on strengthening its brand position, improving its merchandise, and providing better customer service.
We'll discuss Macy's fiscal 4Q17 earnings in the next part of this series.