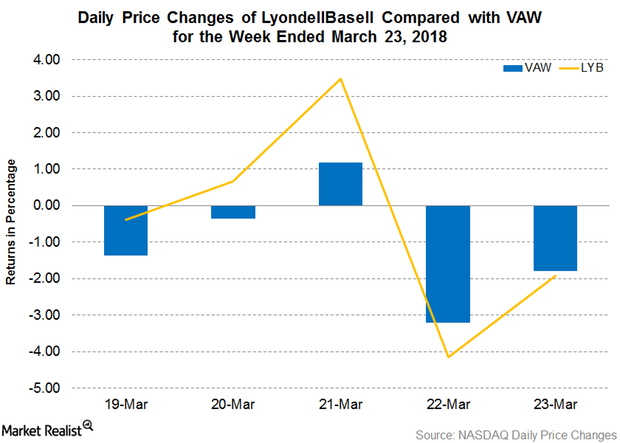 LyondellBasell's A. Schulman Acquisition Gets FTC Approval
By Peter Neil

Mar. 26 2018, Published 8:08 a.m. ET
LyondellBasell's Schulman acquisition on track
On March 21, 2018, LyondellBasell (LYB) announced that it received approval from the Federal Trade Commission to terminate the waiting period under the Hart-Scott-Rodino Antitrust Improvements Act of 1976 for its acquisition of A. Schulman (SHLM). However, LyondellBasell still needs to get approval from A. Schulman's shareholders and other regulatory approvals. LyondellBasell expects the deal to be completed in 2H18.
Article continues below advertisement
LyondellBasell entered into an agreement with A. Schulman on February 15. LyondellBasell is offering $2.25 billion in the all-cash deal. If the deal goes through, LyondellBasell is expected to obtain $150 million through cost-saving synergies in two years. The deal could also help LyondellBasell enter the premier Advanced Polymer Solutions business.
In another development, LyondellBasell's Houston refinery celebrated its 100th anniversary on March 22, 2018. Bob Patel, LyondellBasell's CEO, said, "I want to thank our refinery team for their dedication and commitment. I'm so proud of the important work they do every day. The products made at our Refinery go far and wide and allow goods to move, people to travel and economies to grow."
LyondellBasell's stock performance
The positive news helped LyondellBasell beat the broader market. LyondellBasell declined 2.5% and closed at $104.55. As a result, the stock traded 4.6% below the 100-day moving average price of $109.55, which indicates a trend reversal. If the markets recover, LyondellBasell could move above its 100-day moving average price. On a year-to-date basis, the stock has declined 5.2%. Westlake Chemical (WLK) and Eastman Chemical (EMN) have gained 5.7% and 11.0%, respectively, while Celanese (CE) has declined 9.7%. LyondellBasell's 14-day relative strength index of 39 indicates that the stock isn't overbought or oversold.
Investors could hold LyondellBasell indirectly by investing in the Vanguard Materials ETF (VAW), which declined 5.5% for the week. VAW has invested 3.8% of its portfolio in LyondellBasell as of March 23, 2018.