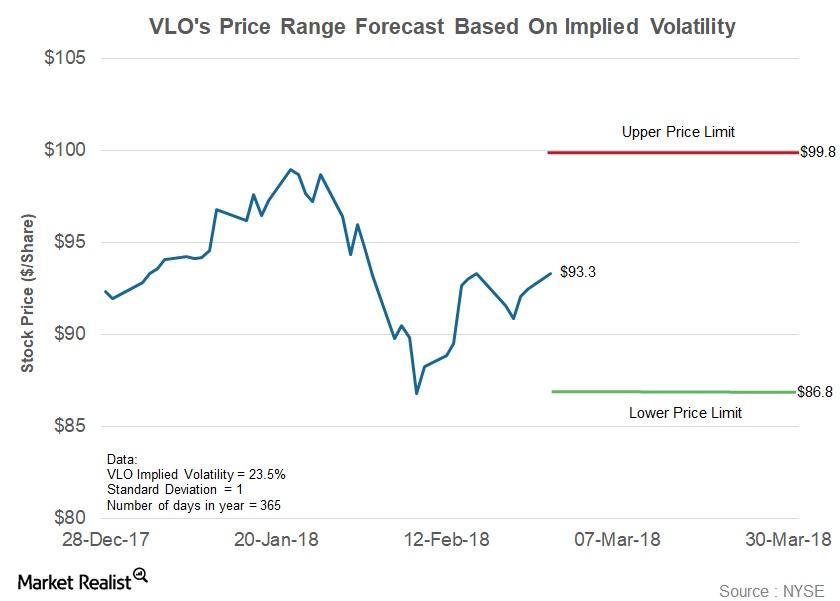 Looking at Valero's Potential Stock Trends until March 30
By Maitali Ramkumar

Mar. 6 2018, Updated 7:34 a.m. ET
What is implied volatility?
Volatility measures changes in a stock's returns. When estimated using historical stock prices, it is termed as historical volatility.
We can also forecast the future volatility of a security using an option pricing model, which is called implied volatility. High implied volatility would mean that the stock's price is likely to move more sharply and provide larger positive or negative returns. Conversely, when the implied volatility is low, smaller positive or negative returns can be expected for a given period.
Article continues below advertisement
Likely price range for Valero stock until March 30
Implied volatility in Valero Energy (VLO) has risen 1.8% from January 2, 2018, to the current level of 23.5%.
Valero stock price could close between $86.80 and $99.8 per share for the 32-day period ending March 30, 2018. This estimate considers VLO's implied volatility of 19.2%, a normal distribution of prices, a standard deviation of 1, and a probability of 68.2%.
Implied volatilities in peers
Implied volatilities in Delek US Holdings (DK), HollyFrontier (HFC), and PBF Energy (PBF) rose 10.4%, 2.7%, and 2.0%, respectively, in the same period. DK, HFC, and PBF's stock prices fell 5.0%, 12.2%, and 13.4%, respectively, in the stated period. 
Currently, implied volatilities in DK, HFC, and PBF stand at 42.3%, 30.4%, and 32.8%, respectively. So, there appears to be a general inverse relationship between implied volatility and these stocks' prices.
However, the SPDR Dow Jones Industrial Average ETF (DIA) and the SPDR S&P 500 ETF's (SPY) have seen increases in their implied volatilities of 4.8% and 5.4%, respectively, since January 2, 2018. 
Since January 2, 2018, DIA and SPY reported increased implied volatility values of 3.6% and 3.4%, respectively. DIA and SPY's implied volatilities currently stand at 13.2% and 12.4%, respectively.