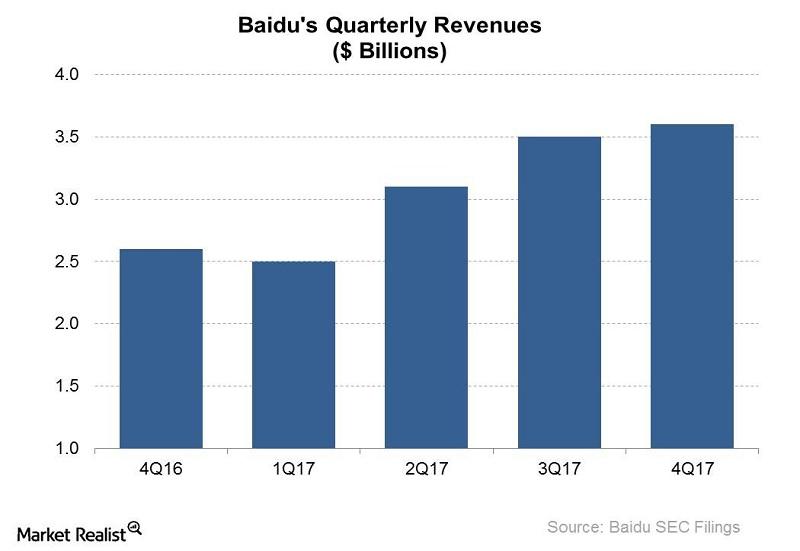 Like Google, Baidu Is Battling an Online Video Problem
Showing disturbing videos to kids
Chinese regulators are investigating Baidu (BIDU), Alibaba (BABA), and Tencent (TCEHY) for allegedly showing disturbing videos about sex and violence to children on their digital platforms. Baidu runs online video platforms such as iQiyi and Haokan. iQiyi is a YouTube-like online video service.
In addition to probing the practices of Baidu, Alibaba, and Tencent about their distribution of online videos, regulators have also embarked on a two-month campaign to cut off the supply of inappropriate content in China's Internet space, the South China Morning Post reported.
Article continues below advertisement
Avoiding advertiser backlash
According to the report, Baidu has formed a special unit to vet videos posted to its Haokan platform so that inappropriate content can be taken down quickly to avoid exposing kids to disturbing videos.
For Baidu, removing inappropriate content from its video platforms could help it avoid the potential loss of advertising revenue due to marketers withholding spending on its platform.
In March 2017, brands such as Johnson & Johnson (JNJ) and Verizon (VZ) suspended running commercials on Google's YouTube site after it was reported that the commercials were showing up next to videos promoting hate and violence. Google faced another advertiser backlash on YouTube in November after it was discovered that some ads were running next to videos that appeared to appeal to pedophiles.
Google has stepped up its efforts to vet videos posted to YouTube to avoid future problems.
Revenue increased 29% at Baidu
Like Google, advertising is Baidu's primary source of revenue. Baidu reported revenue of $3.6 billion in 4Q17, representing a rise of 29% year-over-year.