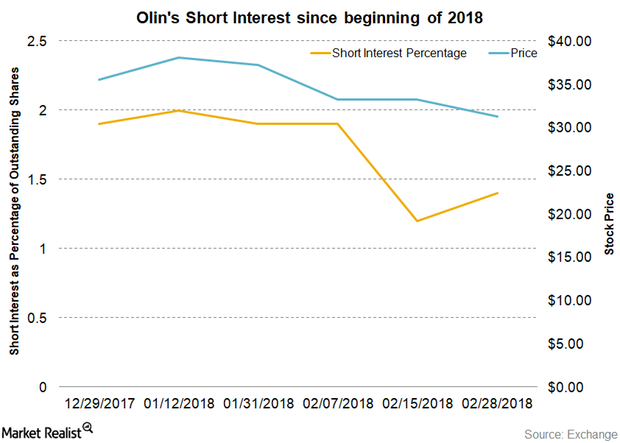 Is Olin's Short Interest Ascending Again?
By Peter Neil

Mar. 22 2018, Updated 7:33 a.m. ET
Short interest in Olin
The latest numbers as of February 28, 2018, show that Olin's (OLN) short interest could be rising again. This trend indicates that bearish sentiment in the stock could grow, and the stock's price could decline.
On December 29, 2017, OLN's short interest as a percentage of its outstanding shares stood at 1.9%. Its short interest had declined to ~1.2% on February 15, 2018. However, the latest report suggests that short interest in the stock is building again. During this period, Olin stock declined 12.0%.
Article continues below advertisement
Why is short interest rising?
Olin reported its 4Q17 earnings per share (or EPS) estimate, which was below the estimates by Wall Street analysts. Also, the volatility of the global markets along with the downward revisions of several brokerage firms boosted the bearish sentiment on the stock.
However, Olin's 14-day relative strength index (or RSI) of 32 indicates that the stock is close to temporarily moving into oversold territory.
Olin's short interest compared to its peers
OLN's short interest is ~1.4 million shares, and its average trading volume is ~2.2 million shares. As a result, its interest ratio is 0.64x, which indicates that it would take one day to cover all of the short positions in OLN. Below are the short interest ratios of OLN's peers:
LyondellBasell's (LYB) short interest is ~10.0 million shares, while its average number of shares traded is 2.1 million. Its short interest ratio is ~4.8x, which indicates that it would take five days to cover its short positions.
Celanese's (CE) short interest ratio is 2.0x, which means that it would take two days to cover its short positions.
Investors can indirectly hold Olin by investing in the Vanguard Materials ETF (VAW), which invested 0.6% of its portfolio in Olin on March 19, 2018.