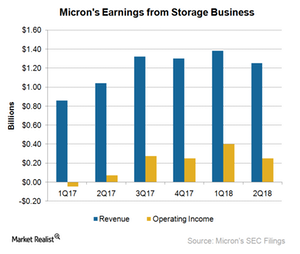 Is Micron's Focus on SSD Reflected in Its Storage Earnings?
By Puja Tayal

Apr. 3 2018, Updated 10:30 a.m. ET
Micron's Storage business
In the previous article, we looked at Micron Technology's (MU) DRAM-dominated (dynamic random-access memory) Compute and Networking Business Unit. The company's second important product, NAND (negative-AND), dominates its SBU (Storage Business Unit), which sells NAND flash SSDs (solid-state drive) and NAND components to clients, cloud, and enterprises.
Micron's new management aims to move up the supply chain and offer flash SSDs and specialized NAND solutions. The company currently has a single-digit share of the SSD market, leaving ample room to scale up and grow its market share.
Micron's new management are veterans of SanDisk, the world's second-largest SSD supplier, which was acquired by Western Digital (WDC) in 2016. New management and Micron's advanced technology have placed it well to increase its SSD market share.
Article continues below advertisement
SBU earnings
Micron's SBU revenue rose 20.2% YoY (year-over-year) to $1.3 billion in fiscal 2Q18, accounting for 17% of its total sales. This revenue was driven by 80% YoY growth in SSD sales. Within SSDs, the adoption was strong in the enterprise and cloud spaces, with sales in these areas increasing 230% YoY. SBU revenue fell 9.4% sequentially as ~30% sequential growth in SSD sales was offset by a reduction in NAND component sales.
The SBU's operating margin expanded from 6.8% in fiscal 2Q17 to 20.1% in fiscal 2Q18 as the company ramped up the production of its second-generation 64-layer 3D NAND, which brought cost benefits. However, its operating margin contracted 900 basis points on a sequential basis as Micron incurred the cost of underutilizing capacity to produce 3D XPoint–based products.
Micron's 3D NAND and SSD solutions
Micron is shifting its SBU product mix away from components to high-margin-value SSD and NAND solutions. This will see the company launch several specialized NAND solutions throughout the year. The company has already started qualifying the industry's first cloud and enterprise SATA (Serial AT Attachment) SSD drive and 3DFS solutions for flagship smartphones with a major chipset vendor.
Micron plans to launch QLC (quadruple-level cell) flash memory in 2019. QLC will be made up of four bits per cell and will have 33% higher storage density than triple-level cell memory. Toshiba (TOSBF) and Western Digital are also developing QLC flash memory. Micron is also developing 3D XPoint products and plans to launch them sometime in 2019.
At the Goldman Sachs Technology and Internet Conference, Micron's CEO, Sanjay Mehrotra, stated that the company plans to launch its own controllers and enhance its firmware capabilities for SSDs.
Next, we'll look at Micron's mobile business, which offers both DRAM and NAND solutions for smartphones.