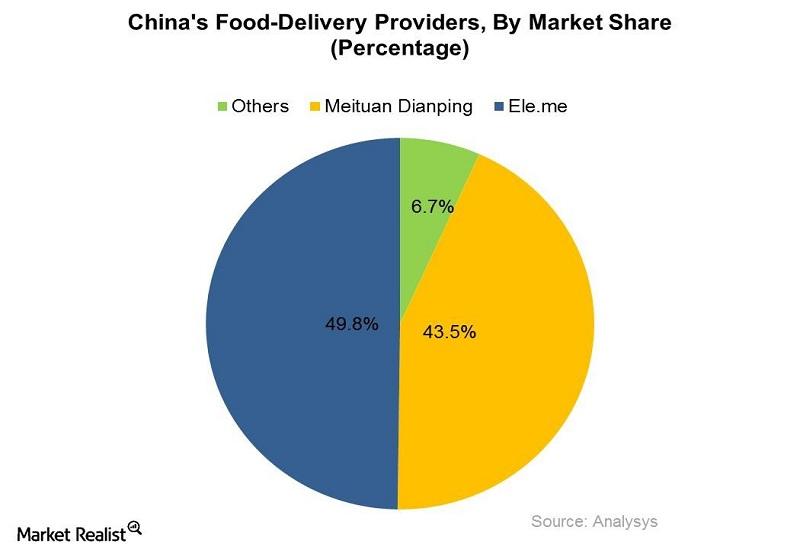 Is Baidu Bailing Out of Ele.me?
By Neha Gupta

Mar. 9 2018, Updated 7:31 a.m. ET
Alibaba interested in Baidu's stake in Ele.me
According to recent media reports, Alibaba (BABA) is seeking to buy out other investors in the Chinese food-delivery service Ele.me. Baidu (BIDU) is one of Ele.me's investors. Baidu sold its delivery business to Ele.me last year, and that transaction gave it a stake in the food-delivery service.
If Baidu agrees to sell its stake in Ele.me to Alibaba, the move would mark its exit from one of the most fiercely contested sectors in China's digital economy. Ele.me is battling for control of China's food-delivery market with Meituan-Dianping, which is backed by Tencent (TCEHY).
According to Analysys International, Ele.me is currently the leading food-delivery provider in the Chinese market. However, competitors can be seen cutting its lead.
Article continues below advertisement
Exiting noncore businesses
For Baidu, bailing out of Ele.me would mark its exit from another noncore business as it increasingly focuses its attention and resources on AI (artificial intelligence) research. Baidu's sale of its delivery business last year was part of its withdrawal from noncore businesses.
Playing to Baidu's strengths
Like Amazon (AMZN) and Google's parent, Alphabet (GOOGL), Baidu is betting on emerging technology fields such as autonomous driving and voice-controlled digital assistants to unlock new revenue sources.
"Entering 2018, we plan to continue our strategy to exit non-core businesses and increase investments in Baidu's mobile and new AI businesses, which we believe play to Baidu's strengths as a technology leader and will sow the seed for Baidu's future growth in autonomous driving and conversational AI, particularly in the home environment," Baidu's chief financial officer, Herman Yu, told investors at the time of the company's 4Q17 results release.