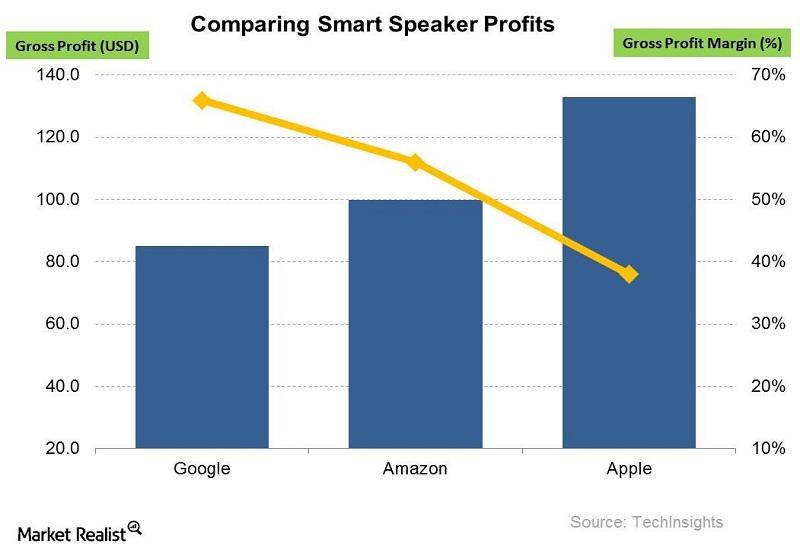 Is Apple Making a Killing or Losing Money with HomePod?
By Ruchi Gupta

Mar. 26 2018, Updated 7:30 a.m. ET
Why Amazon rules the US smart speaker market
Apple's (AAPL) flagship smart speaker product HomePod went on sale in February 2018 after some delays in its release. It was released to a rapidly crowding market where Amazon (AMZN), Google (GOOGL), Alibaba (BABA), and JD.com (JD) have competing products.
According to eMarketer, Amazon currently has a clear lead over the competition, with more than a 70% share of the US smart speaker market.
But Apple is a latecomer to the smart speaker business, so market share comparisons may not clearly bring out what it's getting from the business. Finding out how much Apple makes from the sale of HomePod could be a better way to assess its standing against the competition.
Article continues below advertisement
Apple earns $133 profit from each HomePod
Research firm TechInsights took HomePod apart and examined its components. It concluded that it costs Apple $216 to build the product. Apple sells the HomePod for $349, which implies that the gross profit margin for the product is 38%. Put differently, Apple earns a gross profit of $133 from each HomePod sale.
Amazon's flagship Echo smart speaker carries a margin of 56%, thus earning the company a gross profit of about $100. Google's Google Home device carries a margin of 66%, thus earning the company a gross profit of $85.
Apple trails in margins but leads in actual profit
So while HomePod has a thinner profit margin than Google Home and Amazon Echo, it earns Apple more profits than the competition.