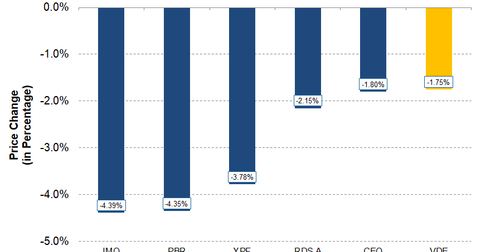 Integrated Energy Losses this Week: IMO, PBR, YPF, RDS.A, CEO
By Nicholas Chapman

Mar. 16 2018, Published 1:19 p.m. ET
Integrated energy stocks
In this part of our series, we'll look at the biggest losses in the US integrated energy sector for the week that began on March 12.
Article continues below advertisement
Imperial Oil: The biggest integrated energy loss
Imperial Oil (IMO) recorded the biggest loss for the week among the integrated energy sector. It decreased from last week's close of $27.34 to $26.14 on March 15, a fall of ~4.4%.
Imperial Oil has been in a strong decline since January 24 and declined more than 19% since then. The decline was so severe that IMO declined for five consecutive weeks before it rose ~3% last week. However, strong declines on all four days of the week so far foiled CVE's attempt to maintain last week's low.
On March 7, IMO provided an update on an aviation gasoline quality issue. Per IMO's press release, around 70% of the sites that received potentially off-spec product have been confirmed as fit for use after testing.
The other integrated energy losers for the week are Petrobras (PBR), YPF Sociedad Anonima (YPF), Royal Dutch Shell (RDS.A), and China National Offshore Oil (CEO). PBR, YPF, RDS.A, and CEO are down ~4.4%, ~3.8%, ~2.2%, and ~1.8%, respectively, so far this week.
Yesterday, Petrobras (PBR) reported its 4Q17 earnings. In 4Q17, Petrobras reported revenues of ~$23.5 billion—lower than the Wall Street analyst consensus of ~$23.7 billion. However, PBR beat EPS estimates by $0.21 in 4Q17. PBR reported an adjusted profit of $0.43 per share, whereas Wall Street analyst consensus was for profit of $0.22 per share.
On March 15, Royal Dutch Shell (RDS.A) announced an agreement to sell shares in Shell entities in New Zealand to OMV for ~$578 million.
This week, the Vanguard Energy ETF (VDE) is down ~1.8 %. VDE has exposure to integrated heavyweights like Exxon Mobile (XOM) and Chevron (CVX).