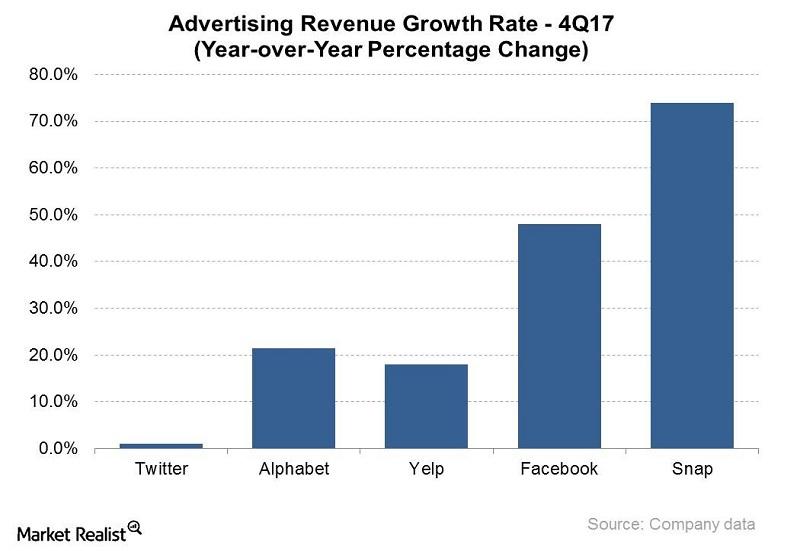 Inside the Instagram-Snap Competition
By Ruchi Gupta

Mar. 14 2018, Updated 9:01 a.m. ET
187 million versus 500 million daily users
This year, Snap's (SNAP) Snapchat app is expected to gain more young users than its Facebook-backed (FB) rival, Instagram. Industry forecaster eMarketer predicts that Snap will add 1.9 million subscribers under the age of 25 years in 2018, beating Instagram's predicted addition of 1.6 million.
However, Instagram boasts a larger overall audience than Snapchat. While Snapchat closed 4Q17 with 187 million daily active users, Instagram had more than 500 million daily users by the end of 3Q17.
Article continues below advertisement
Snap outpaced Facebook in ad revenue growth
Like Twitter (TWTR), Snap doesn't disclose its number of advertisers. However, it said its advertising revenue grew 74% YoY (year-over-year) in 4Q17. Instagram boasts more than 2.0 million active advertisers, and its parent, Facebook, recorded a 48% YoY jump in advertising revenue in 4Q17. Facebook has more than 6.0 million active advertisers on its flagship social media site.
Although Facebook boasts a much larger advertiser base, Snap outpaced it in terms of advertising revenue growth in 4Q17. Twitter's advertising revenue rose only 1.0% YoY in 4Q17. Advertising revenue increased 21.4% YoY at Google parent Alphabet (GOOGL) and 18% YoY at Yelp (YELP).
Snapchat-Instagram competition likely to heat up
With Snapchat beginning to roll out features geared towards influencers, its competition with Instagram for audience and advertisers looks set to escalate. According to Ampere Analysis, about 44% of Snapchat users are aged between 18 and 24, compared with just 20% of Facebook users.