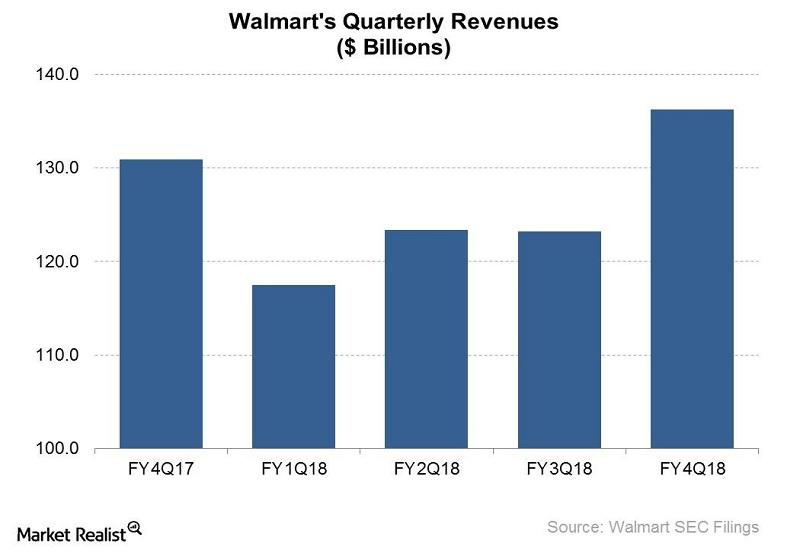 Inside the Amazon–Walmart Grocery Tit for Tat
By Ruchi Gupta

Mar. 19 2018, Updated 9:01 a.m. ET
Amazon captured 18% of US online grocery sales
Amazon (AMZN) captured 18% of the US online grocery market in 2017, double the market share of its closest competitor, Walmart (WMT), according to One Click Retail.
Amazon's rise in the grocery business poses a huge threat to traditional retailers such as Walmart, Costco (COST), and Kroger (KR), which rely on grocery sales for a substantial portion of their revenues. Amazon's $13.7 billion acquisition of Whole Foods last year clearly revealed its interest in wresting consumers' grocery budgets from Walmart and other big retailers.
Article continues below advertisement
Resisting Amazon's grocery offensive
Last year, in a further raid on traditional grocers, Amazon came up with a discounted Prime membership plan aimed at low-income shoppers on government assistance. According to the Wall Street Journal, a significant number of consumers on government assistance are Walmart customers.
As Amazon's presence in the grocery business grows, Walmart is fighting back, and a tit-for-tat war is ensuing between the two retail giants.
Walmart recently announced that it was expanding its grocery delivery service to more than 100 markets across the United States from its current total of six markets. Walmart's move to expand its grocery home delivery service came just a week after Amazon expanded its rapid grocery delivery from Whole Foods stores to six markets from the original four.
Amazon and Walmart are competing in many areas
As their grocery competition escalates, Amazon and Walmart have been challenging or matching each other's moves in areas such as fast delivery and lower food prices. Walmart is also building alliances abroad, including with China-based JD.com (JD), which is also pushing into the grocery business.
Walmart generated overall revenue of $136.3 billion in the January quarter, a rise of 4.1% year-over-year.