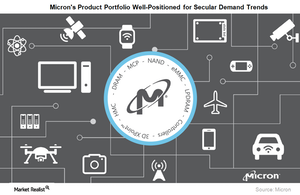 In Which Direction Is Micron's Product Strategy Heading?
By Puja Tayal

Mar. 29 2018, Updated 4:45 p.m. ET
Product strategy
The memory market is heavily consolidated, with only three companies offering both NAND (negative-AND) and DRAM (dynamic random-access memory) solutions. In fact, Micron Technology (MU) is the only company that offers NAND, DRAM, and 3D XPoint technology.
In the previous part of the series, we learned that Micron is accelerating its transition to advanced technology nodes in order to stay competitive.
Article continues below advertisement
NAND
Apart from its technology transition, Micron is leveraging its second-generation 64-layer 3D TLC (triple-level cell) NAND to develop solutions for the cloud, enterprise, and mobile spaces. It has started qualifying the industry's first cloud and enterprise SATA (Serial AT Attachment) SSD (solid-state drive) drive. It has also qualified its 3DFS solutions for flagship smartphones with a major chipset vendor.
Other than generational advancement and specific memory solutions for different end markets, Micron is bringing another variation by stacking up memory. It's developing QLC (quadruple-level cell) NAND, which it expects to bring online sometime in 2019. QLC solutions will target applications that are more read-intensive and less write-intensive.
Article continues below advertisement
DRAM
Micron has qualified its 1X DRAM with three of the largest hyperscale data centers and is in the process of qualifying it with others. It's also focusing on 1X LPDRAM (low-power DRAM) solutions, as they're being used across a multitude of applications.
3D XPoint
Micron developed the storage-class memory technology 3D XPoint in collaboration with Intel (INTC) in 2015. Intel launched products based on this technology under the Optane brand in 2017, but Micron has yet to launch products based on this technology.
Sanjay Mehrotra has stated that the company is still assessing the application of—and establishing a product road map for—3D XPoint within the memory ecosystem. Once 3D XPoint–based products are launched sometime in 2019, Micron will assess the market opportunity for the new technology.
Investors fear that an increase in supply could fade the memory market's growth trend. Analysts think otherwise. Next, we'll see whether investors need to worry about Micron's future growth potential.