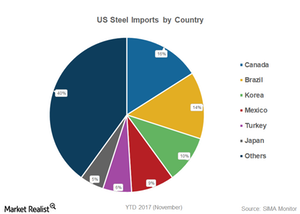 How Will US Import Tariffs Affect China?
By Sarah Sands

Mar. 9 2018, Updated 3:26 p.m. ET
Implementation of tariffs
In the above part, we discussed that the US Department of Commerce recommended a wide range of tariffs on aluminum and steel imports, which helped these industries to rise sharply in the last two weeks.
Article continues below advertisement
Largest exporters of steel to the US
The United States is the largest steel importer in the world. Canada is the largest exporter of steel to the US, according to the Steel Import Monitoring and Analysis System. Brazil, Mexico, South Korea, and Japan are the other top exporters of steel to the US. China (FXI) is not one of the top five exporters of steel and aluminum to the US.
Given that China isn't the major exporter of steel and aluminum to the US, we can expect that the implementation of President Trump's import tariff plan might have some minimal effect on China's economy. But, it might badly affect trade relations between the US and NAFTA (or North American Free Trade Agreement) members such as Mexico and Canada.
Ray Dalio wrote, "If tariffs are imposed as indicated, I would hope and expect the Chinese response to be small and symbolic so that both sides will have rattled their sabers without actually inflicting much harm, what will come after that will be more important. I wouldn't expect it to amount to much anytime soon. If on the other hand we see an escalating series of tit for tats, then we should worry."
Performance of various ETFs
The iShares MSCI Canada ETF (EWC), which tracks the performance of Canada, fell 0.7% on March 1, 2018, after the announcement of President Trump's tariff plan. Similarly, ETFs such as the Direxion Daily FTSE China Bull 3X ETF (YINN) and the SPDR S&P 500 ETF (SPY), which tracks the performance of China and the S&P 500 Index, fell 0.6% and 1.3%, respectively, on that day.
You may be interested to read, .