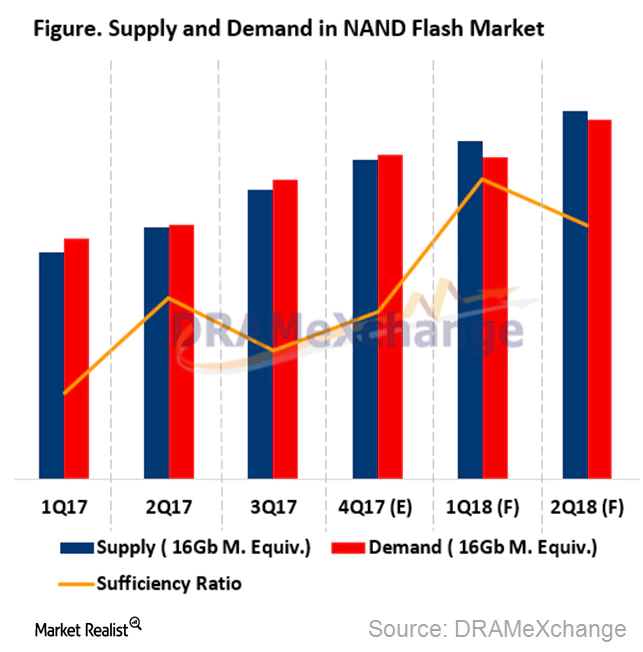 How Western Digital Views Falling NAND Prices
By Adam Rogers

Mar. 13 2018, Updated 9:02 a.m. ET
NAND market begins to normalize
Western Digital (WDC) management stated that the global NAND (negative AND) market has started to normalize after a constrained supply scenario in 2017. With this normalization, WDC estimates the ASP (average selling prices) to fall, which WDC expects will be offset by cost declines driven by technology, improving yields, and nodal transitions. The first half of 2018 generally has experienced seasonally lower demand, while the second half is expected to see rising demand. WDC has estimated the NAND to grow between 35% and 45% this year, and the firm has been able to grow at the higher end of this guidance. Demand for NAND is elastic, which suggests that demand will fall in case of a price increase.
Article continues below advertisement
ASP has historically fallen in the long term
We know that the ASP (average selling prices) for storage has historically declined. Analysts have forecasted that an oversupply in NAND will lead to a fall in ASP. According to Weston Twigg, an analyst from KeyBanc, the NAND market is expected to face oversupply in the first half of 2018, which will drive prices downwards by 3% to 5% quarter-over-quarter. Twigg also expects the NAND price decline to moderate or flatten in the second half of this year as supply growth slows.
Falling NAND ASP could accelerate the adoption of solid-state drives (or SSD) in the personal computer and server markets. WDC views its ability to deliver ASP declines and cost reductions will result in the improvement in manufacturing scale and lowering of average unit cost, which then opens up new markets for the firm and provides room for technology innovation as well.