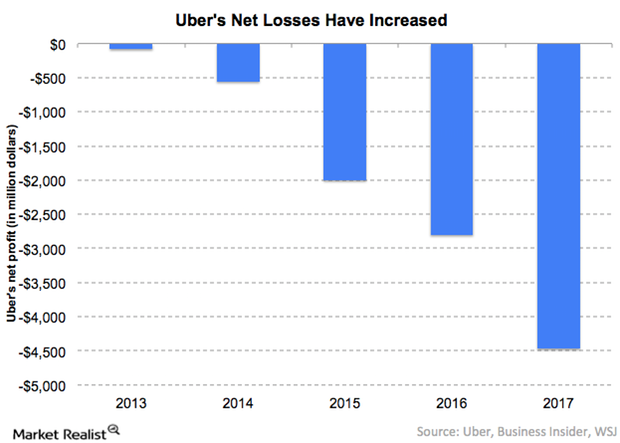 How Uber's Rival Lyft Increased Its US Market Share
By Sanmit Amin

Mar. 16 2018, Published 2:57 p.m. ET
Lyft generated revenue of $1 billion in 2017
US ride-hailing company Lyft said on March 12, 2018, that it saw revenue of over $1 billion in 2017. Uber's main US rival said that its revenue rose 168% YoY (year-over-year) in 4Q17 compared to Uber's 61% YoY growth in the same quarter.
That said, Uber is a far bigger company, and it operates in many more countries. Uber generated revenue of $7.5 billion in 2017. However, Lyft has bridged the gap with Uber in terms of market share in the United States, having taken advantage of the tumultuous year its rival had. Both Uber and Lyft are not yet profitable.
Considering its head start, dominance, and other advantages over its American rival, Uber hasn't been able to drive Lyft out of the ride-hailing market.
Article continues below advertisement
Lyft is headed in the right direction
According to a report by Tech Crunch, Lyft said that it's still registering over 10 million rides per week. The company also said that the current quarter is likely to be its 20th consecutive quarter with more than 100% YoY growth. According to Bloomberg, Lyft generated revenue of $700 million in 2016.
Late last year, Lyft picked up $1 billion in funding from Google's parent, Alphabet (GOOGL). Alphabet has been in a legal tussle with Uber, which allegedly stole the trade secrets of Alphabet's subsidiary Waymo. Uber has received major funding from SoftBank and is likely to go public next year.