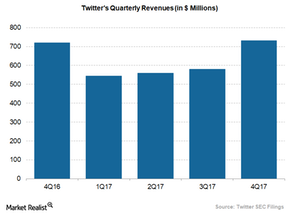 How the Twitter Lite App Could Be Useful for Emerging Markets
By Sophia Nicholson

Mar. 22 2018, Updated 7:33 a.m. ET
Twitter Lite app for Android
In November 2017, Twitter (TWTR) announced the launch of its Twitter Lite application for Android users in Africa, Asia, Europe, the Middle East, and Latin America. After successfully testing Twitter Lite in the Philippines, Twitter has expanded the launch of Twitter Lite in 24 countries, where Android users can install the app through Google's (GOOGL) Play Store.
Article continues below advertisement
Resolving slow mobile network problems
Twitter Lite is a native app version of a mobile website that Twitter launched in April 2017, which works without having an App Store or Google Play account. Twitter Lite is a leaner version of Twitter's regular service that works well on slow Internet connections and loads quickly even on slow mobile networks. It also consumes about 3 MB (megabytes) less storage space than the standard Twitter mobile app.
Microsoft's (MSFT) LinkedIn launched LinkedIn Lite as an Android app earlier this year. Facebook Lite (FB) also proved to be the company's fastest-growing app.
Efforts to expand in emerging markets
Emerging markets like the Philippines and India have slow mobile networks, and it users often have limited storage space on their mobile devices. The launch of Twitter Lite in emerging markets appears to be a prudent move and could attract more new users.
Twitter generates a significant amount of revenues from international markets. The company produced nearly 44.5% of its revenues from overseas markets in 4Q17, driven by strong performance in the Asia-Pacific region and in specific EMEA markets.
Twitter posted revenues of $732.0 million in 4Q17, beating the Wall Street consensus estimate of $686.1 million. Its 4Q17 top line also represented growth of 2.0% year-over-year.