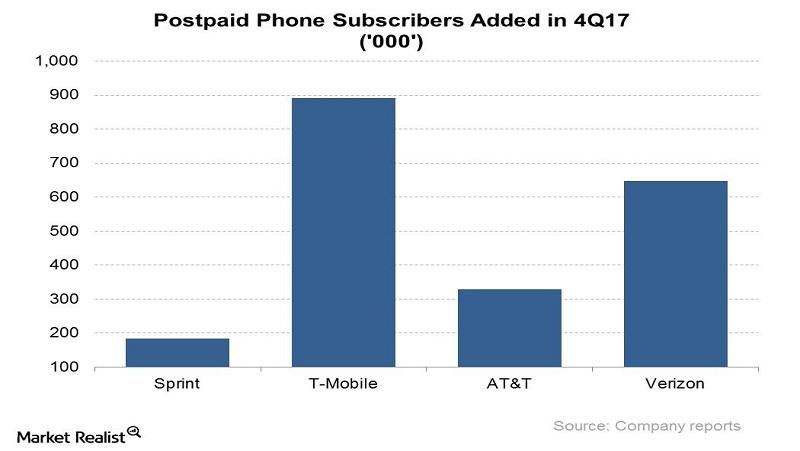 How T-Mobile's Subscriber Growth Is Trending
T-Mobile beat rivals in race to woo postpaid phone customers
T-Mobile's (TMUS) subscriber base continued to expand in 4Q17. The company closed 2017 with 72.6 million subscribers in total. The company gained 1.9 million subscribers in 4Q17 and 5.7 million subscribers in full-year 2017.
T-Mobile added 891,000 postpaid phone subscribers in 4Q17, marking a slowdown from 1.2 million postpaid phone customers added a year earlier but still better than its competition. Verizon (VZ) added 647,000 postpaid phone customers in 4Q17, while AT&T (T) added 329,000 postpaid phone customers in the US in the same quarter. Sprint (S) gained 184,000 postpaid phone customers in 4Q17.
Article continues below advertisement
Verizon and AT&T revived unlimited plans amid disruptions
The market for the top-four US wireless carriers expanded in 4Q17 as they all gained customers in the quarter. All the four top players now offer unlimited data plans to their customers, underscoring the heated competition for subscribers in the US wireless market.
For market leaders Verizon and AT&T, their return to an unlimited data offering was viewed as a measure to try to defend their market share amid disruption from the smaller rivals. Verizon and AT&T revived their unlimited data plans in February last year after years of keeping off the unlimited data scene.
T-Mobile and Sprint are using their competitively priced unlimited data plans to try to attract customers away from their larger rivals.
T-Mobile-Sprint merger aborted