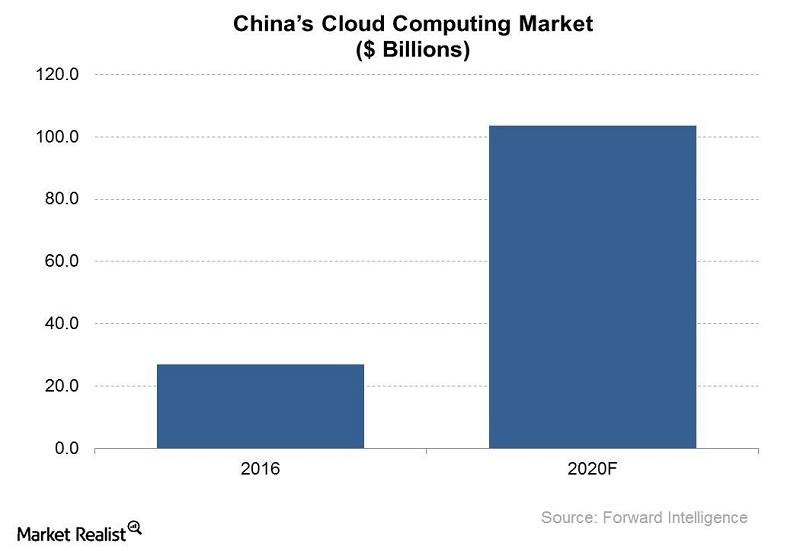 How Oracle Is Navigating China's Complex Cloud Market
By Ruchi Gupta

Mar. 10 2018, Updated 11:21 p.m. ET
China to host Oracle cloud region
Oracle (ORCL) is planning to dramatically increase its cloud computing capacity over the next few years. According to a Wall Street Journal report, Oracle plans to open 12 new cloud regions over the next two years. Oracle currently operates four cloud regions, which are typically composed of several data center facilities spread across a particular geography.
China is one of the markets that is expected to host Oracle's data center complexes for delivering cloud computing services. However, Oracle is gearing up to expand into China's cloud computing market at a complicated time for foreign technology companies operating in the country. Last year, China adopted a law that requires cloud services providers in the country to store data locally.
Article continues below advertisement
Local partnerships
American multinationals such as Apple (AAPL), Amazon (AMZN), and Microsoft (MSFT) have had to partner with local companies to comply with China's law on how to handle cloud data belonging to its citizens.
It's unclear whether such partnerships will drive up costs for these companies or cut into their profit margins. Oracle is taking a similar route to navigate China's complex cloud landscape. 
The company struck a deal with Tencent (TCEHY) to be its cloud computing partner in China. Under such deals, the local partner operates the data center facilities on behalf of the foreign company.
China is a big cloud market
Oracle's cloud partner Tencent is one of China's leading Internet companies with interests in multiple digital sectors. In addition to running its own social media platforms, Tencent backs companies such as Snap (SNAP), JD.com (JD)—a leading e-commerce provider in China—and India's Flipkart.
As for cloud computing providers like Oracle, China is a promising market despite the stringent rules relating to data handling. China is a rapidly growing cloud computing market. Its spending on public cloud services is forecast to reach $103.6 billion by 2020, according to a Forward Intelligence study cited by China Daily.