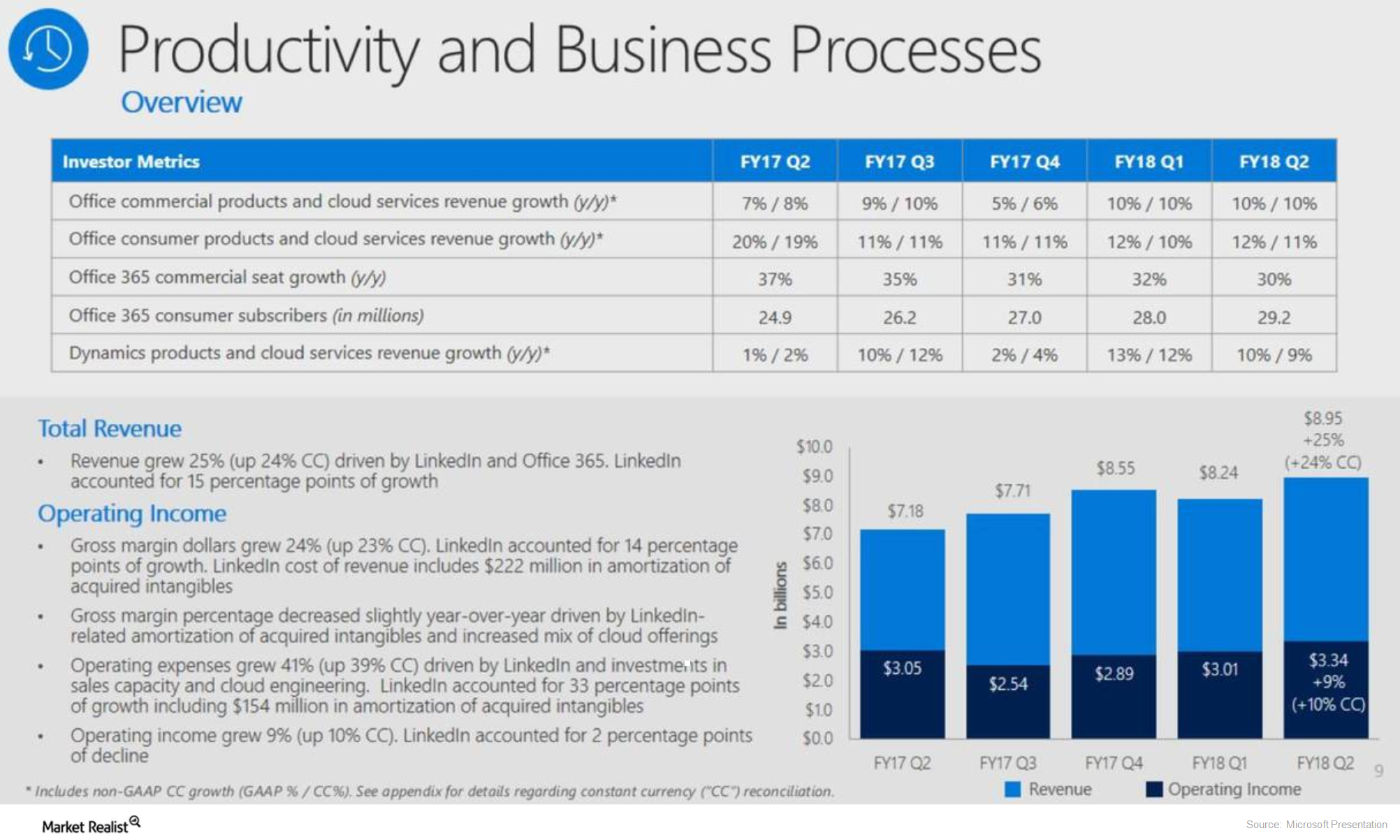 How Microsoft's Productivity and Business Processes Performed in Fiscal 2Q18
By Anne Shields

Mar. 6 2018, Updated 2:00 p.m. ET
Microsoft's Productivity and Business Processes growth continues
In the preceding part of this series, we discussed how Microsoft's (MSFT) Azure has seen increased adoption in the cloud space, which, along with its better-than-expected earnings, has been providing stimulus to the stock. Here, we'll focus on Microsoft's Productivity and Business Processes segment.
Office 365, the cloud version of Office, the traditional version of Office, and LinkedIn make up this segment. In fiscal 2Q18, this segment grew 25% to $8.95 billion in constant-currency terms, exceeding the analysts' estimate of $8.86 billion.
Article continues below advertisement
Jack Gold, a principal analyst at J. Gold Associates, is of the opinion that this segment will continue to be a growth area for Microsoft. Citing Gold's analysis, eWeek wrote: "While many expected to see a migration away from Office as companies moved to the cloud, these numbers show that most companies are sticking with Microsoft for productivity suites, and the move to Office 365 shows a strong trend of moving from on-prem/on-device into the cloud."
Office 365 continued to be a key highlight
Office commercial products and cloud services revenues grew 10%, primarily due to Office 365 commercial revenue, which reported 41% growth. As more and more customers are switching to online subscription versions of Word, Excel, and other productivity programs, Office 365 is getting a boost. Office 365 commercial revenue reported 41% growth in fiscal 2Q18.
Office 365's revenue growth was collectively driven by the "ARPU expansion from continued customer migration to higher value offers in the E3 and E5 workloads." Dynamics products and cloud services revenue grew 10% on the back of 67% growth by Dynamics 365.
LinkedIn's contribution in this quarter was $1.31 billion. Office 365 commercial seats grew 30% in fiscal 2Q18. As the above presentation shows, a ~30% growth rate is more or less consistent with what we've seen over the past six quarters.
On the consumer side, the Office 365 subscriber base grew to 29.2 million users, up from 28 million and 24.2 million in fiscal 1Q18 and fiscal 2Q17, respectively.