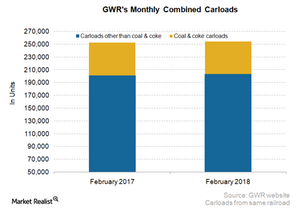 How Genesee and Wyoming's Carloads Trended in February
By Samuel Prince

Mar. 15 2018, Updated 11:05 a.m. ET
GWR's freight volumes in February
In February 2018, Genesee & Wyoming's (GWR) freight volumes from North American, European, and Australian operations were ~254,300 carloads, which represents a rise of 0.8% or 2,000 plus carloads compared with February 2017. GWR's same-railroad carloads in the reported month expanded 0.6% to less than 254,000 carloads compared with over 252,200 carloads in February 2017.
On a cumulative basis, GWR's traffic for the first two months of 1Q18 was 531,400 carloads, up 0.2% on a yearly basis. The company's same-railroad freight volumes during the same period were ~530,500 carloads, representing no change from the levels in the first two months of 2017.
Article continues below advertisement
Segmental carloads in February 2018
In February 2018, North American operations carloads were 50.1% of Genesee & Wyoming's total carloads. Its share remained unchanged from the same month last year. Shipments from the United Kingdom and European operations were 32.9% of the overall volumes. This share declined marginally from 33.2% in the same month of 2017. Australian operations' contribution declined from 17% in February 2017 to 16.7% this year. On a combined basis, coal (BTU) and coke traffic declined very slightly by 0.04% to ~51,230 carloads in this year from 51,260 carloads in February of last year.
The upside to rail stocks
Major US rail stocks (BRK.B) (UNP) are poised to rise a lot in 2018 due to an improved environment for coal. Coal remains the largest commodity hauled by the Class I railroads (IYT) in the US. An upsurge in oil prices could give upward momentum to the rail intermodal. In 2017, the rail intermodal was in front of trucking companies due to lower crude oil prices. Plus, the capex deduction provision in the Tax Cuts and Jobs Act bodes well for US transportation stocks, particularly railroads.
In the next part, we'll take a stock of GWR's North American volumes in February 2018.