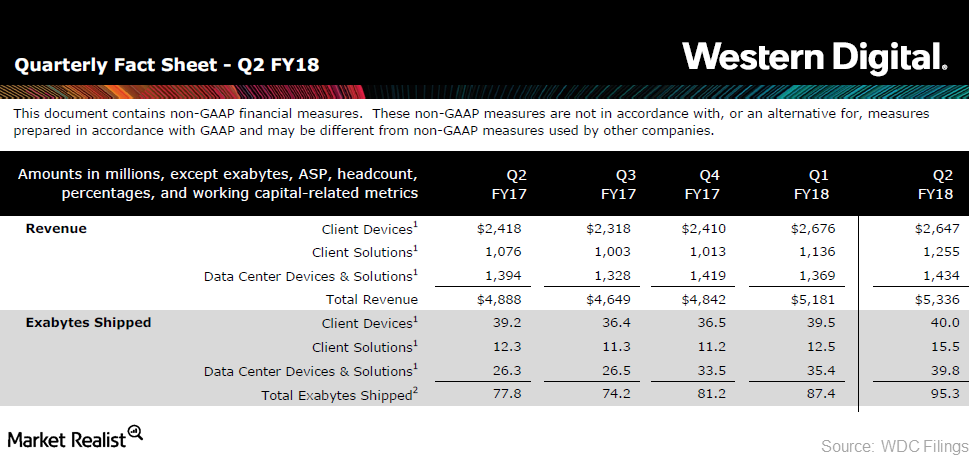 How Does Western Digital View Exabyte Growth?
By Adam Rogers

Mar. 15 2018, Updated 7:30 a.m. ET
Industry exabyte growth expected to rise over 50% in 2018
As seen below, Western Digital's (WDC) total exabytes (or EB) shipped rose 22.5% YoY (year-over-year) to 95.3 in fiscal 2Q18 from 77.8 in fiscal 2Q17. Exabyte growth in 2017 was less than 30% due to industry-wide component constraints. However, WDC has seen a rise in demand for capacity enterprise drives towards the end of 2017 and has estimated the YoY industry-wide exabyte growth to exceed 60% in the first half of 2018. For the full year 2018, WDC estimates exabyte growth of over 50% driven by broad deployments of capacity enterprise drives.
Article continues below advertisement
What is driving infrastructure expansion?
Mike Cordano, WDC COO stated, "Data center build out by several large hyperscale customers and guided industrial policies are driving significant global infrastructure expansion." This expansion has led to a growing demand for capacity enterprise drives in the mid-range and high-end range. WDC has a lower market share in the mid-range of capacity enterprise drives and has introduced new air-based products in the 4-TB (terabyte) and 5-TB segment.
WDC expects the demand for high-range and mid-range capacity drives to support a higher rate of EB consumption this year. The firm expects an annual EB growth of 40% YoY in 2018.