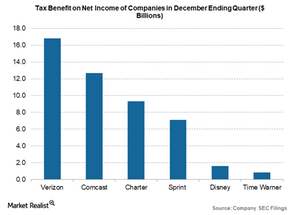 How Disney Rewarded Its Employees after US Tax Structure Changes
By Sophia Nicholson

Mar. 6 2018, Updated 7:30 a.m. ET
Disney awards a bonus to its employees
The Walt Disney Company (DIS) is joining the bandwagon of companies that are passing their tax benefits on to their employees in the form of bonuses. Disney recently announced that it would pay a one-time special bonus of $1,000 to nearly 125,000 of its US employees following the US tax reform.
The company also announced that it would initially invest in a new education program worth $50 million to cover tuition costs for hourly employees. In the near term, the company will fund up to $25 million annually. As a result of these two initiatives, the company will spend more than $175 million in fiscal 2018.
Disney further added that all full-time and part-time nonexecutive employees who have been serving the company since January 1, 2018, would be eligible for the bonus. The first part of the bonus will be paid in March, and the other part will be paid in September.
Article continues below advertisement
Tax revision to benefit the company
According to the revised tax structure approved by US Congress, the corporate tax rate has been altered from the existing 35% to 15.5% on cash and 8% on liquid assets. The new tax reform will majorly benefit those companies that have invested significant funds overseas because of high US tax rates. A reduced tax rate should, therefore, result in the substantial repatriation of overseas funds in the country.
As we can see in the chart above, a large number of telecommunications and media companies have benefited from the US tax reform. In the quarter that ended in December 2017, telecom and media companies Verizon (VZ), Charter (CHTR), T-Mobile, and Comcast (CMCSA) realized tax gains of ~$16.8 billion, $9.3 billion, $2.2 billion, and $12.7 billion, respectively, on their net incomes.
Apart from Disney, AT&T (T), Comcast, Apple, and many other companies have also announced that they will reward their US employees with special bonuses of $1,000 as a result of the tax benefit, according to a CNBC report.