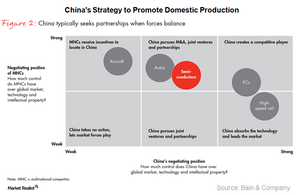 How Could a Memory Collaboration with Intel Benefit China?
By Puja Tayal

Mar. 21 2018, Updated 7:30 a.m. ET
China's move to semiconductor self-sufficiency
Whereas China (FXI) is the largest consumer of semiconductors in the world, it meets most of its needs through semiconductor imports. It has been looking to reduce its dependence on imports, aiming to be 70% self-sufficient in the chip market by 2025. However, its lack of IP (intellectual property) is a major hurdle in building domestic memory plants.
The Chinese government plans to invest $160 billion to develop its domestic semiconductor industry, and Tsinghua Unigroup is the biggest beneficiary of this grant. The company spent $24 billion on a NAND plant, which could start manufacturing 32-layer 3D NAND chips by the end of 2018 and ramp up production in 2019. However, China would still be four years behind its South Korean (EWY) competitor, Samsung (SSNLF).
Article continues below advertisement
Samsung started volume production of 32-layer 3D NAND chips in August 2014, and is currently producing 64-layer 3D NAND chips. It also announced its fifth-generation 96-layer 3D NAND memory in 2017. The higher number of layers requires technical expertise that cannot be achieved with time and effort alone.
How would a possible memory collaboration with Intel benefit China?
To gain this expertise, Tsinghua Unigroup has tried to acquire Micron (MU), Lattice Semiconductor (LSCC), and a portion of Western Digital (WDC), but has failed due to scrutiny by US authorities. However, it continues to find ways to get access to memory IP, and one such method is a collaboration with Intel (INTC).
Intel is currently ramping up production of 64-layer NAND and is developing 96-layer NAND. A collaboration with Intel could help Tsinghua Unigroup reduce its technology gap with Samsung and launch inexpensive and competitive 3D NAND products faster than expected.
Article continues below advertisement
Technical partnership with Toshiba
Other than Intel, China is also eyeing Japanese NAND maker Toshiba (TOSBF), which is selling its memory business to a Bain Capital-led consortium. Toshiba needs approval from Chinese regulators to complete the sale. China could take advantage of this situation and initiate a technical partnership with Toshiba.
Intervention with South Korean memory chipmakers
China has also asked Samsung to meet memory demands of Chinese companies without increasing prices. It has also asked Samsung to settle the patent litigations with Chinese companies.
China is not only focusing on semiconductors but the entire technology industry, and may be aiming to overtake the United States in AI (artificial intelligence) adoption. This move by China opens many new opportunities for Intel, which is expanding in the AI market. We'll look into these opportunities in the next part.