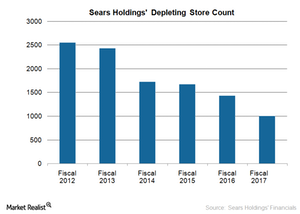 How CEO Edward Lampert Is Trying to Save Sears
Store strategy
Sears Holdings (SHLD) has been in murky waters for quite some time now. Undeniably, Sears has been affected by the rise of e-commerce, but that's not the only factor at play. Management has made several self-harming decisions that have caused the company's fortunes to reverse.
Sears has been trying to boost its performance through underperforming store closures, cost cuts, debt financing, and asset sales. Retailers across the spectrum, such as Macy's (M) and JCPenney (JCP), have been closing their underperforming stores and cutting costs to thrive in the challenging retail landscape.
Article continues below advertisement
Sears has drastically streamlined its portfolio. As of February 3, 2018, the company operated 1,002 stores (432 Kmart stores and 570 Sears Domestic stores) compared to 1,430 stores as of January 28, 2017, and 1,672 stores as of January 30, 2016. In January 2018, the company announced that it would close 64 Kmart stores and 39 Sears stores between March and early April 2018.
Though the company is focusing on opening specialty stores, these efforts seem to be too little, too late. CEO Edward Lampert's decision to avoid capex on store maintenance is also repelling customers.
Debt financing and asset sales can't be the way forward
There's tremendous concern about the company's debt financing and asset sale approach. Sears's balance sheet as of February 3, 2018, had $2.3 billion in long-term debt and capitalized lease obligations, while it had another $915 million in short-term borrowings. In contrast, the company's cash and cash equivalents stood at a mere $182 million.
The company has taken up an additional real estate loan of $100 million and another $440 million in secured and mezzanine loans in March 2018 through an earlier ring-fence arrangement with PBGC for the release of 138 properties for sale on the payment of $407 million to the company's pension fund.
As the company is losing cash from operations, it has been selling off assets to pay down its debt. So far, the company has sold a chunk of properties, and as of February 3, 2018, it was left with $1.7 billion worth of property and equipment and $1.4 billion worth of goodwill, trade names, and other intangible assets.
In the face of this cash hemorrhage, selling assets (a limited resource) to pay down debt looks to be a worrisome state of affairs, fueling bankruptcy speculation all the more.