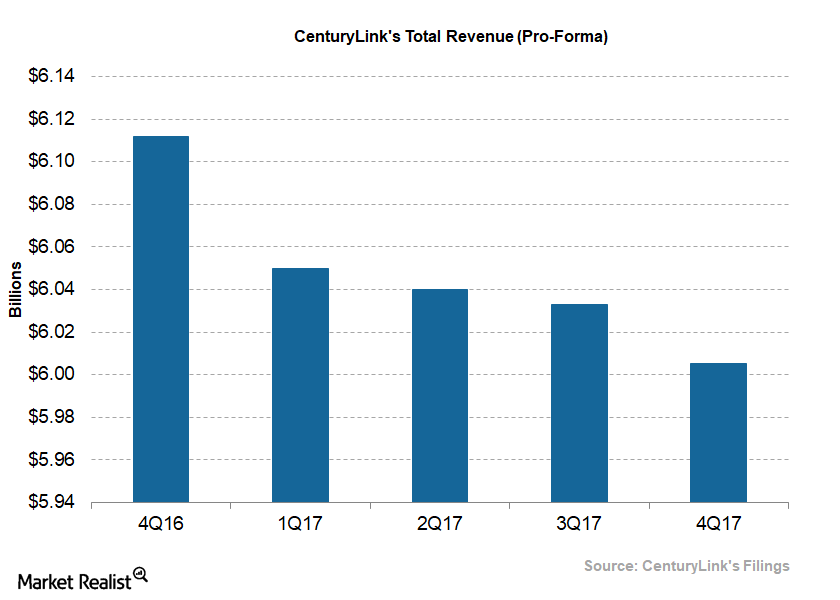 How CenturyLink Could Benefit from its Level 3 Acquisition
By Ambrish Shah

Mar. 23 2018, Updated 2:20 p.m. ET
Top-line boost
CenturyLink (CTL), an American telecommunications company, completed its acquisition of Level 3 in November 2017. The acquisition could provide CenturyLink with meaningful scale in its Enterprise segment and boost its top line. Two other well-known players in this area are Verizon (VZ) and AT&T (T). CenturyLink's total operating revenue fell ~1.8% YoY (year-over-year) to revenue of $6.0 billion in 4Q17 on a pro-forma basis.
Article continues below advertisement
Business and Consumer revenue
In CenturyLink's Business segment, results were mixed. It had revenue of $4.42 billion in 4Q17, down slightly from its pro-forma revenue of $4.45 billion in 4Q16. Medium and Small Business revenue fell to $874.0 million from $918.0 million.
CenturyLink reported gains in its Enterprise as well as International and Global Accounts revenue, which rose to $1.3 billion and $941.0 million, respectively. Meanwhile, its Wholesale and Indirect revenue fell YoY, to $1.3 billion from $1.4 billion.
CenturyLink had Consumer revenue of $1.4 billion in 4Q17, down from the pro-forma revenue of $1.5 billion reported in 4Q16. The Consumer segment continues to strive to find a balance between legacy voice, lower-speed broadband churn, and next-generation adoption. In 4Q17, CenturyLink's Regulatory revenue rose YoY, to $189.0 million from $176.0 million. Verizon's total revenue rose ~5.0% YoY to $34.0 billion in 4Q17, whereas AT&T's total revenue fell ~0.4% YoY to $41.7 billion.