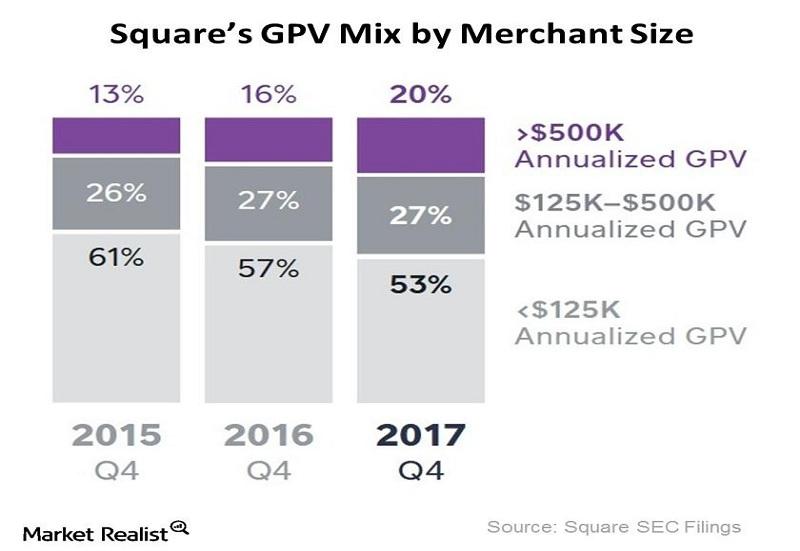 How Are Big Merchants Responding to Square's Pitch?
By Neha Gupta

Mar. 27 2018, Updated 3:45 p.m. ET
Small merchants account for over 50% of GPV
Square's (SQ) payment solutions first gained popularity among small businesses, which saw an opportunity to expand their customer reach by being able to accept credit card payments. To date, merchants that transact less than $125,000 a year account for over 50% of Square's GPV (gross payment volume), the total number of payment transactions processed on Square network. In 4Q17, for instance, 53% of Square's $17.9 billion GPV came from merchants making less than $125,000 in gross sales.
Article continues below advertisement
Courting big merchants
Square wants to broaden its reach by courting big merchants as well, and it is making progress towards this. Its outreach to larger customers resulted in its GPV from merchants transacting over $125,000 a year going up 44% YoY (year-over-year) in 4Q17.
Merchants transacting over $125,000 a year represented 47% of Square's total GPV in 4Q17 compared to 43% in the year-ago quarter. In its outreach to larger customers, Square's fastest penetration is among customers transacting over $500,000 a year with this group representing 20% of GPV in 4Q17 compared to 16% of GPV in 4Q16. Merchants transacting between $125,000 and $500,000 represented 27% of Square's GPV in 4Q17, which was the same as in the year-ago quarter.
Battle for big customers
Outreach to big merchants pits Square in fierce competition with PayPal. Since splitting from eBay (EBAY) in 2015, PayPal (PYPL) has stepped up its pursuit of big-ticket customers, and at one point its CEO, Dan Schulman, disclosed that the company was in talks with Amazon (AMZN) about processing payments for the e-commerce giant. Amazon and its fellow e-commerce giants such as Alibaba (BABA) and JD.com (JD) largely use in-house payment services.