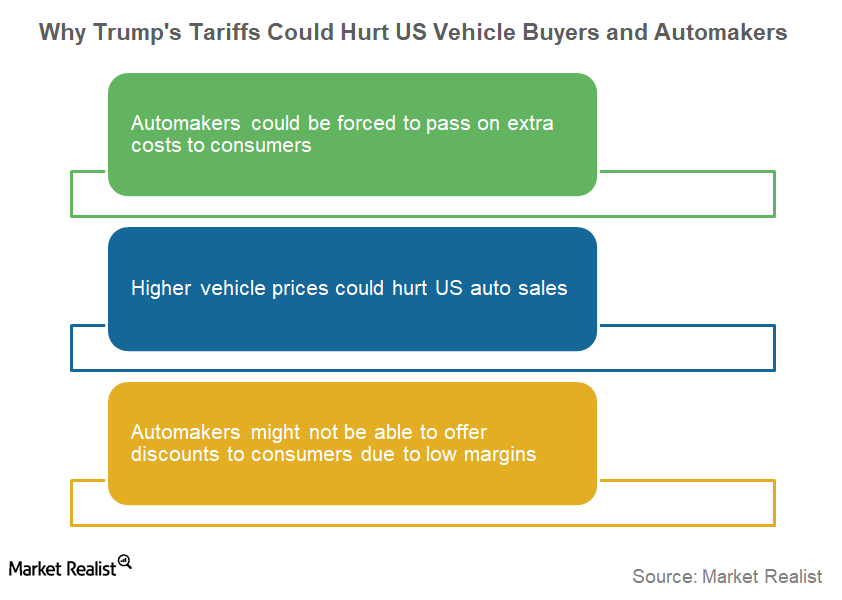 Here's How Trump's Tariffs Could Affect American Autobuyers
By Jitendra Parashar

Mar. 7 2018, Published 9:59 a.m. ET
Possible impact on US automakers
In 2017, the Trump administration continued to put pressure on automakers to shift their production plants from Mexico to the United States. Many auto giants, including General Motors (GM), Ford (F), Fiat Chrysler (FCAU), and Toyota (TM), announced their plans to invest in the US market and create jobs. Ignoring the concerns of higher manufacturing costs, Ford announced that it would shift its Mexico-based small car production to the United States.
Article continues below advertisement
Negative impact on automakers' margins
In 2017, US auto sales declined 1.8% YoY (year-over-year). Many automakers expect US light vehicle sales to weaken further in 2018. Automakers have been trying to protect their margins to offset the negative impact of softening US auto sales. In this scenario, President Trump's decision to impose a tariff on steel and aluminum imports could increase vehicle manufacturing costs, which could significantly affect the US auto industry and hurt the industry's already low profit margins.
Will consumers bear the extra burden?
In an effort to protect their profit margins, auto companies could be left with no other choice but to pass on the extra costs of production to autobuyers. That would put an extra financial burden on American consumers.
An increase in vehicle prices could also hurt US auto demand in the near term, which could make the situation for US automakers even worse. That could be one reason auto stocks have underperformed the broader market in the last few weeks.
In the next part, we'll see how General Motors stock traded in the first two months of 2018.