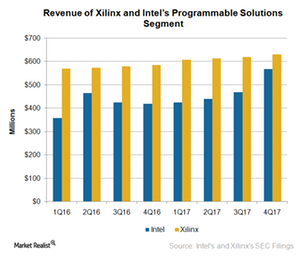 Growth Begins at Intel's Programmable Solutions Group
By Puja Tayal

Mar. 16 2018, Updated 10:31 a.m. ET
Intel's Programmable Solutions Group
Intel (INTC) is making efforts to make its mark in the 5G and AI (artificial intelligence) revolution, and FPGAs (field-programmable gate arrays) are likely to play a key role in this. FPGAs can be programmed after chips are manufactured, giving customers the flexibility to modify the chips to their requirements. Unlike NVIDIA (NVDA), which offers general-purpose accelerators, Intel wanted to offer specific accelerators, and FPGAs do exactly that.
To integrate this technology into its chipsets, Intel acquired FPGA maker Altera in 2016. However, the merger slowed technological integration. Rival FPGA maker Xilinx (XLNX) grabbed this opportunity and ended up one year ahead of Altera.
Article continues below advertisement
Intel has caught up by launching Stratix 10 FPGAs on their 14nm (nanometer) FinFET (fin field-effect transistor) process nodes. The Stratix 10 FPGA family comprise four variants—GX, SX, MX, and TX—and incorporates Intel's EMIB (embedded multi-die interconnect bridge) packaging technology. There are rumors that Intel is developing its next-generation Falcon Mesa FPGA product family on the 10nm node. These announcements indicate that Intel's PSG (Programmable Solutions Group) is up for strong growth.
PSG
Intel's PSG revenue rose 14% YoY (year-over-year) to $1.9 billion in 2017 as the segment launched its full family of Stratix 10 FPGAs. This growth helped the division move from an operating loss of $104 million in 2016 to an operating profit of $458 million in 2017.
In 4Q17, PSG witnessed its strongest quarter, with its revenue rising 35% YoY to a record high of $568 million, and its operating income rising 95% YoY to $156 million. The revenue growth was driven by strong demand in the data center, automotive, embedded, and advanced product categories, and partially offset by softness in communications infrastructure. Its Stratix 10 design wins doubled in one year as its application expanded in 5G, cloud computing, and network virtualization.
Intel is now looking to leverage its FPGA technology to tap opportunities in China. China, the second-largest AI market, is accelerating its 5G efforts. Next, we'll look at Intel's FPGA portfolio and how it could support the company's transformation to a data-centric company.