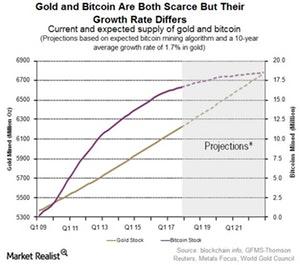 Where Gold's Global Supply Could Be Headed
By World Gold Council

Mar. 1 2018, Updated 5:35 p.m. ET
World Gold Council
Gold supply is responsive
At a high level, there are some similarities between the supply profile of gold and crypto currencies. The stock of bitcoin, for example, increases in number at a rate of approximately 4% per annum, and is engineered to slowly decline to zero growth around the year 2140. While gold can be mined without a date limit, its production rate has been quite small and steady. Approximately 3,200 tons of gold have been mined on average, each year, adding about 1.7% to the total stock of gold ever mined. Bitcoin's future diminishing growth rate and ultimate finite quantity are clearly attractive attributes, as is gold's scarcity and marginal annual growth (See chart below).
Article continues below advertisement
Gold, however, benefits from a price-responsive recycling market. Since 1995, recycled gold – that is primarily jewelry sold by consumers for cash – accounts for around a third of total supply. When gold prices rise, some consumers take advantage of the appreciation by selling their gold. This helps maintain balance in the gold market and contributes to lower price volatility.
 Another similarity between gold and cryptocurrencies is that they are not government-issued units of exchange. However, unlike gold, bitcoin is not unique as a blockchain application. The many cryptocurrency alternatives beg the question of whether a newer, better blockchain-based coin application may be equivalent to increasing supply, not unlike fiat currency.
Market Realist
Bitcoin's supply is dwindling
Bitcoin and other cryptocurrencies (ARKK) (ARKW) have gained immense popularity, leading to a boom in demand and prices. However, the challenge ahead for bitcoin is its exhausting supply. January 2018 marked the month in which bitcoin exhausted 80% of its supply, which means that only 4.2 million bitcoins are left to be mined. That's in line with founder and developer Satoshi Nakamoto's bitcoin protocol capping the bitcoin supply at 21 million.
Article continues below advertisement
Gold's declining supply
Supply is one feature that bitcoin shares with gold. The supply of gold is also diminishing. According to recent data from the World Gold Council, the global gold supply in 2017 declined 4% year-over-year to 4,590.9 t (metric tonnes) from 4,398.4 t in 2016. The gold market supply and demand are usually balanced by gold's recycling activity. However, 2017 saw less recycling activity from the major gold markets. According to World Gold Council data, after higher prices and high recycling activity in 2016, the cash crunch in India led by demonetization reforms affected the recycling of gold in the country in 2017. The annual supply of recycled gold declined 10% year-over-year to 1,160 t from 1,295 t in 2016.
Political tension across the Middle East led to reduced recycled activity from Turkey and Egypt. A report by GoldCore last week stated that China, the biggest supplier of gold, saw a 9% decline in production in 2017. Even though China accounts for about 15% of total gold production, most of it is used for domestic demand since the country doesn't export gold. Gold (IAU) mining has come under tighter regulations, which is resulting in the closures of smaller mines in China. GoldCore's report also stated that since gold mines are finite, production and supply of gold depend on new mines being discovered. There are fewer possibilities of new mines being discovered.