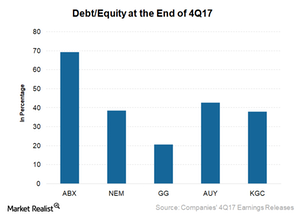 Gold Miners' Leverages: Comparing the Books Post-4Q17
Leverage ratios
Companies usually try to optimize their debt-to-equity ratios in order to minimize risk and reduce the cost of capital. However, debt levels can create problems for companies—especially when the commodity markets aren't doing well. Since high debt levels can strain a company's credit rating and growth decisions, it's important to look at its financial leverage.
Article continues below advertisement
Financial leverage
While Barrick Gold (ABX) and Newmont Mining (NEM) were once regarded as the companies with the highest financial leverage ratios, things are changing. These companies have significantly improved their balance sheets by paying off debt through cash flows and proceeds from the sale of noncore assets. Even after following through with their debt-reduction targets, these companies have high debt levels.
Barrick Gold has a high DE (debt-to-equity) ratio of 69.0% compared to the following ratios for its peers:
The debt-to-equity ratio shows the debt-equity mix in a company's capital structure. Newmont Mining's debt ranking has fallen significantly.
Financial indebtedness
Miners (GDX) usually take on more debt when metal prices are doing well. When the down cycle begins, however, this debt starts hurting them. Some of the above-mentioned miners made acquisition decisions funded mainly by debt at the peak of the mining cycle. The majority of these acquisitions were eventually written off due to poor economics and low metals prices (GLD) (SLV), leading to increased financial leverage for miners without a corresponding rise in production.
Investors usually like profitable, sustainable companies. Billionaire hedge fund manager John Paulson calculates that mistimed deals have led to gold write-downs totaling $85 billion so far this decade.
Miners have pulled up their socks over the last two to three years. Their major focuses have been reducing debt and strengthening their balance sheets—achievements which are now visible, especially for Newmont Mining and Barrick Gold.
In the next part of this series, we'll look at gold mining companies' cash holdings and their near-term and long-term needs.