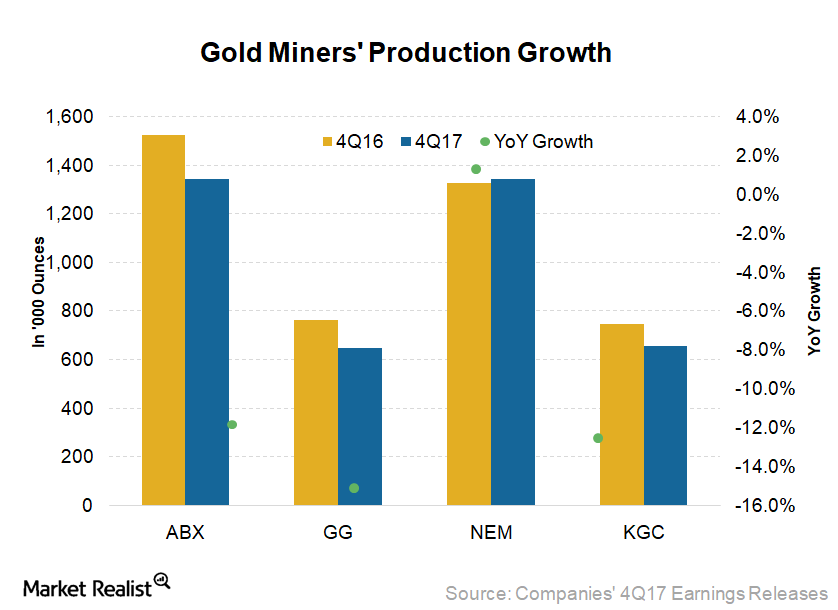 Going by Miners' Production Guidances, Is Production Thinning?
By Anuradha Garg

Mar. 13 2018, Updated 4:00 p.m. ET
Production growth
Goldcorp's (GG) gold (GLD) (NUGT) production fell 15% to 646,000 ounces YoY (year-over-year) in 4Q17. This lower production was expected because GG's Penasquito mine entered into a planned stripping phase, resulting in lower-grade ore.
In addition, GG's divestiture and closure of some of its mines also led to a fall in production. Its full-year production came in at 2.6 million ounces, slightly higher than its guidance of 2.5 million ounces.
Goldcorp has guided for production of 2.5 million ounces in 2018 with a variance of plus or minus 5%, which is in line with its previous 2018 guidance as well as its guidance for 2017.
Article continues below advertisement
Lower production guidance
In 4Q17, Barrick Gold (ABX) produced ~1.3 million ounces of gold, a fall of 11.8% YoY. The company's total production in 2017 came in at 5.32 million ounces, on the lower end of the company's adjusted guidance of 5.3 million–5.5 million ounces. 
The 50% sale of the Veladero mine in June 2017 and lower production by Acacia due to Tanzania's concentrate export ban led to the production decline for the company. ABX has guided for lower production of 4.5 million–5.0 million ounces of gold in 2018, reflecting a decline of ~11% at the midpoint compared to its actual production in 2017.
Upgrade to production guidance
Unlike Barrick and Goldcorp, Newmont Mining's (NEM) 4Q17 production increased 1.3% YoY to 1.3 million ounces. Higher throughput and grade at its Merlin and Tanami mines and a full quarter of production at its Long Canyon mine helped achieve this increase. 
Even for the full year, Newmont achieved production of 5.3 million ounces, an increase of 8% YoY. NEM has guided for production of 4.9 million–5.4 million ounces of gold in 2018 and 2019. This growth should be driven by the company's Full Potential mine plan, throughput, and recovery improvements.
Kinross Gold (KGC) produced 653,000 gold equivalent ounces (or GEO) in 4Q17 and 2.7 million GEOs in 2017. Its full-year production was toward the higher end of its guidance range of 2.5 million–2.7 million ounces. For 2018, Kinross has slightly lowered its production guidance compared to 2017. The company has guided for 2.5 million ounces in 2018, with a variance of plus or minus 5%. This expected decline in production compared to 2017 is due to mine sequencing at several operations.
Having looked at near-term production, let's now take a look at the medium- to long-term production growths of these miners in the next article.