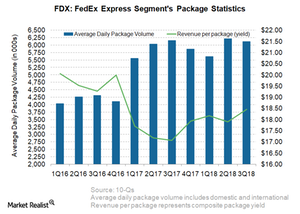 FedEx's International Package Raises Fiscal 3Q18 Revenues
By Samuel Prince

Mar. 22 2018, Updated 2:05 p.m. ET
FedEx Express's revenues in fiscal 3Q18
Let's take a look at FedEx (FDX) Express's performance. In the third quarter of fiscal 2018, it reported revenues of $9.4 billion compared to $8.5 billion in the corresponding quarter of fiscal 2017. That translates to a YoY (year-over-year) revenue growth of 9% in fiscal 3Q18. The vertical remains the largest contributor to FedEx's total revenues, accounting for 56.7% of revenues in the reported quarter.
Article continues below advertisement
US Domestic operations
The FedEx Express segment includes US package revenues and International package revenues. The US package revenues are derived from US Overnight packages and US Deferred packages. In 3Q18, the US Package revenues were ~$3.2 billion, up 4.8% from $3.1 billion in 3Q17. US Overnight Box package revenues within total US Overnight package revenues contributed 56.2% of total US package revenues. Overnight Box package revenues grew 5.4% on a year-over-year basis. US Deferred package revenues rose 4.4% in fiscal 3Q18.
International package revenues are derived from International Export package and International Domestic package. International Export package revenues come from International Priority package and International Economy package. International package revenue rose 10.1% in fiscal 3Q18 compared with fiscal 3Q17. Within the International Export package revenues, International Economy package revenues grew 14.6%, and International Domestic package revenues rose 9.2%.
Article continues below advertisement
Overall revenues of the FedEx Express segment grew due to better base rates, currency exchange rates, and higher fuel surcharges. However, they were negatively impacted by the June cyberattack that affected TNT Express's IT systems. On an overall basis, total package volume fell 1% due to reduced international domestic and US domestic volumes. These were offset by a 1% growth in international export package volume. FedEx Express showed the average daily freight pounds metric on a quarterly basis. The average daily freight pounds rose 3% in 3Q18 driven by increased volumes in the United States as well as outside the United States.
Management's outlook
FedEx expects its international business to drive revenue growth in fiscal 2018. After the June cyberattacks, the company has expedited the pace of the TNT Express integration with FedEx Express. The courier giant anticipates improvements in revenue and profitability in the Express division. The company expects fiscal 2018 to be one of the best years in the last ten years.
Investing in ETFs
The Tax Cuts and Jobs Act could benefit the transportation (WERN) sector and, more particularly, logistics companies. Investors who seem optimistic about US transportation and logistics stocks may consider investing in the First Trust Industrials/Producer Durables AlphaDEX ETF (FXR). Major airlines (JBLU) and trucking (SWFT) companies together form more than 20% of FXR's portfolio.
In the coming section, we'll examine FedEx Ground's fiscal 3Q18 results.