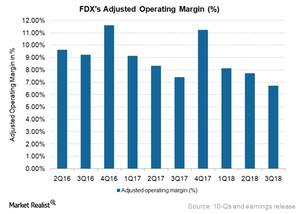 FedEx and Its Fiscal 3Q18 Operating Margins: Did It Deliver?
By Samuel Prince

Mar. 23 2018, Updated 10:31 a.m. ET
FedEx's operating margins in fiscal 3Q18
In this part of the series, we'll look at FedEx's (FDX) operating margins in fiscal 3Q18. In the quarter, the company saw a contraction of 70 basis points in its adjusted operating margins. Its operating margins fell from 7.4% in the third quarter of fiscal 2017 to 6.7% in fiscal 3Q18. In the third quarters of fiscal 2018 and fiscal 2017, the parcel delivery giant's operating margins were comparable. That was due to the absence of mark-to-market pension accounting adjustments for both years.
FedEx's fiscal 3Q18 income statement reveals that while revenues grew 10.2%, the company's operating expenses rose 11.1%. That explains the reason for the contraction in fiscal 3Q18's operating margins. Let's assess the company's segmental operating margins.
Article continues below advertisement
Segmental margins
Adjusted operating margins for FedEx Express contracted from 7.1% in fiscal 3Q17 to 5.4% in fiscal 3Q18. The vertical's adjusted operating income declined to $510 million compared with $610 million in fiscal 3Q17. Adverse weather, higher TNT Express integration costs, increased peak-season related expenses, and unfavorable currency exchange rates negatively impacted the segment's operating income.
FedEx Ground's operating income rose 23% from $515 million to $634 million in fiscal 3Q18. The segment's operating margin grew 110 basis points to 12.1%, from 11% in the third quarter of fiscal 2017. Its segmental operating profit and margin improved due to robust revenue growth, along with cost management initiatives pursued by FedEx. However, these were partially offset by higher purchased transportation, recruitment of seasonal staff, and higher network expansion costs.
FedEx Freight's operating income rose 34% to $41 million, from $55 million in fiscal 3Q17. Its operating margin rose 0.5% to 3.2% in fiscal 3Q18, from 2.7% in fiscal 3Q17. The segment's operating income grew due to the benefit of higher LTL (less-than-truckload) revenue per shipment. The higher revenue per shipment was negatively impacted by increased variable compensation accruals.
Article continues below advertisement
Management insights
On the fiscal 3Q18 earnings call, FDX reiterated its objective of a $1.2 billion–$1.5 billion improvement for FedEx Express's operating income by fiscal 2020. However, the company stated, "FedEx is unable to forecast the fiscal 2018 year-end mark-to-market (MTM) pension accounting adjustments. As a result, the company is unable to provide fiscal 2018 earnings-per-share guidance or projected fourth quarter fiscal 2018 consolidated operating income or margin on a GAAP basis."
The company expects FedEx's fiscal 4Q18's adjusted operating margin to be 11%–11.8%. Effective March 1, 2018, the company realigned its specialty logistics and e-commerce solutions under FedEx Trade Network in the FedEx Express segment. FedEx expects the realignment to positively impact the operating margins for FedEx Ground and FedEx Freight in fiscal 4Q18. However, the change could negatively affect FedEx Express's margins that quarter.
 
In the next part of this series, we'll look at FedEx's line of capital expenditure and the outlook for fiscal 2018.