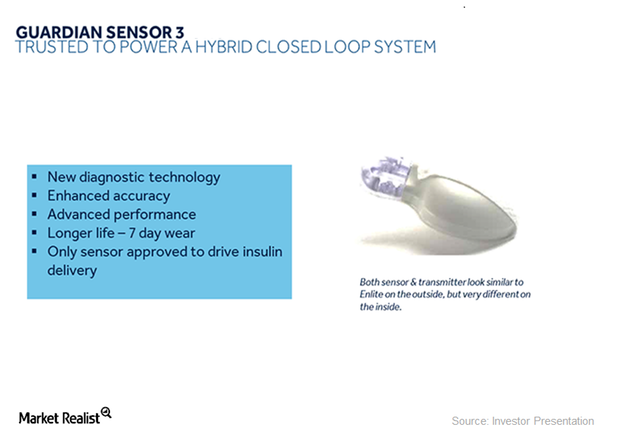 FDA Approves Arm Indication for Medtronic's Guardian Sensor 3
By Sarah Collins

Mar. 9 2018, Updated 5:15 p.m. ET
Arm indication approved for Medtronic's Guardian Sensor 3
On February 26, 2018, Medtronic (MDT) announced that the FDA has approved a new arm indication for its Guardian Sensor 3, the latest and most accurate CGM (continuous glucose monitoring) sensor. The expanded indication will enable the sensor to be worn on the upper arm, thus providing more flexibility, higher accuracy, and enhanced performance.
It is the only sensor approved for use with Medtronic's MiniMed 670G, which is the first HCL (hybrid closed loop) insulin delivery system in the world. It was approved by the FDA in September 2016 and launched in June 2017.
Article continues below advertisement
Some of the competing CGMs in the market are DexCom's (DXCM) G5 and Abbott Laboratories' (ABT) Freestyle Libre. In October 2017, Johnson & Johnson (JNJ) exited the insulin pump business, which benefited Medtronic since Johnson & Johnson facilitated the transition of its customers to Medtronic's devices.
Who can use the Guardian Sensor 3?
The Guardian Sensor 3 is currently approved for use by people with Type 1 diabetes who are 14 years and older. It is available in the United States. The sensor has a diagnostic technology that enables continuous monitoring of sensor health in order to provide reliable and consistent performance.
Medtronic's consistent diabetes segment growth strategy
Medtronic is continuously enhancing the features and technology of its diabetes products to provide consistent upgrades in performance and value for its customers. Medtronic recently faced sensor supply shortages; however, it has resolved most of the issue and has been recovering well. The company has increased its sensor manufacturing capacity back to optimum levels.
According to Medtronic, the company is now able to meet the existing sensor demand and is on track to achieve the sensor manufacturing capacity to meet the additional expected demand in fiscal 4Q18 from existing as well as new customers.