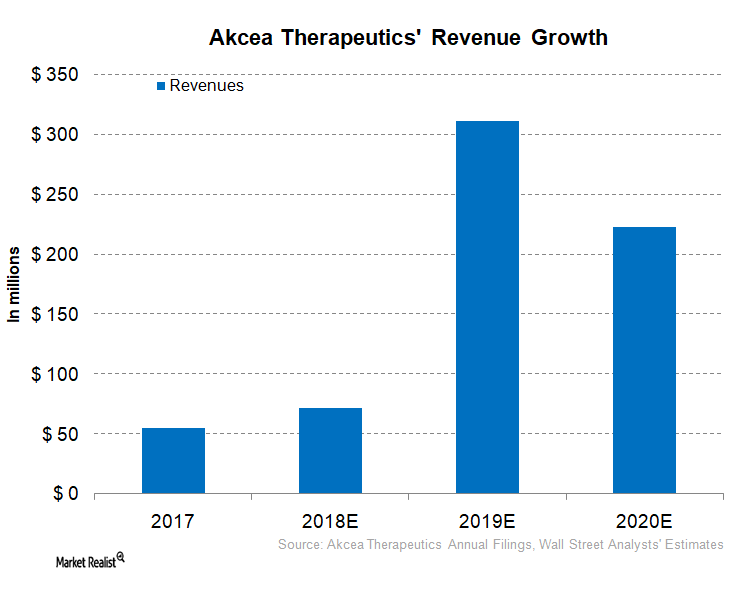 Exploring the Financial Performance of Akcea Therapeutics
By Kenneth Smith

Mar. 22 2018, Updated 7:31 a.m. ET
Top line
In 2017, Akcea Therapeutics (AKCA) generated total revenue of $55.2 million. The company generated this revenue from research and development under a collaboration agreement with Novartis (NVS).
In 2018, Akcea Therapeutics is expected to generate revenue of $71.3 million, while its peers Amgen (AMGN), Ionis Pharmaceuticals (IONS), and bluebird bio (BLUE) are expected to generate revenues of $22.5 billion, $582.4 million, and $23.9 million, respectively.
Article continues below advertisement
Operating expenses
In 2017, Akcea Therapeutics incurred research and development expenses of $126.8 million compared to $68.4 million in 2016. It incurred general and administrative expenses of $36.9 million in 2017 compared to $15 million in 2016. This increase in operating expenses was the result of sublicensing expenses of $48.4 million that were due to Ionis and development activities related to AKCEA-APO. The increase in the company's general and administrative expenses was attributable to its advancement of pre-commercialization activities for volanesorsen.
Akcea Therapeutics' operating loss was $108.6 million in 2017 compared to $483.5 million in 2016. The company incurred interest expenses of $1.7 million in 2017.
Bottom line
Akcea Therapeutics incurred a net loss of $109.7 million in 2017 compared to $83.2 million in 2016. The company's net loss per share was $2.82 in 2017. The increase in its net loss in 2017 was primarily attributable to its global expansion activities and its pre-commercialization and development efforts for its drugs.
Valuation metrics
Akcea Therapeutics' price-to-sales and price-to-book value ratios stand at 35.6x and 12.2x, respectively. The current ratio of the company, a metric of how effectively it can meet its short-term obligations, is 3.30.