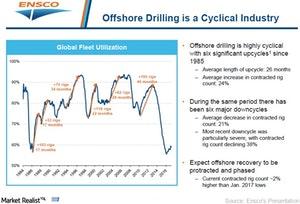 Ensco's Views on the Jack-Up and Floater Segments
By Sue Goodridge

Mar. 5 2018, Updated 7:34 a.m. ET
Outlook
During its 4Q17 conference call, Ensco (ESV) gave its views on the jack-up and floater market. Ensco's views constructive commodity prices, attractive breakeven economies for offshore projects, and rig retirements as positive signs for the offshore drilling sector. 
Ensco believes these factors have created a favorable backdrop for the supply-demand dynamics of the industry. It believes the industry is in the early stage of recovery.
Article continues below advertisement
Shallow water jack-up activity
Ensco has observed increased activity in the North Sea and the Gulf of Mexico for short-term projects. The company has also observed several opportunities in the Asia market. 
Ensco (ESV) has the highest number of jack-up rigs among its peers. Rowan Companies (RDC) has a fleet of 26 offshore drilling rigs—22 jack-up rigs and four ultra-deepwater drillships.
Floater market
According to Ensco (ESV), the floater market is also improving. Although deepwater projects have longer lead times, the recovery for this segment is in a much earlier phase. 
The recent lease rounds in Brazil and Mexico drew high levels of interest from many IOC customers. Six pre-salt blocks were awarded in offshore Brazil, and 19 deepwater blocks were awarded in offshore Mexico. Ensco expects these regions to drive additional demand for the floaters in the coming years. 
The company believes that these long-term demand prospects have improved for the floater market, but the issue of rig supply remains. So, Ensco doesn't expect a more sustained recovery of this segment until 2019 when it expects to see utilization improve before its pricing power returns. 
Transocean's (RIG) fleet has 49 floaters. Seadrill Partners (SDLP) doesn't have any jack-up rigs in its fleet. Seadrill operates semisubmersibles and drillships. Diamond Offshore Drilling (DO) operates 19 rigs—14 semisubmersibles, four drillships, and one jack-up rig.
Conclusion
Despite higher oil prices and increasing customer demand, the market for both jack-ups and floaters remains extremely competitive. Ensco expects these conditions to persist through 2018. The company believes that customer activity has bottomed and that the offshore drilling market is recovering.